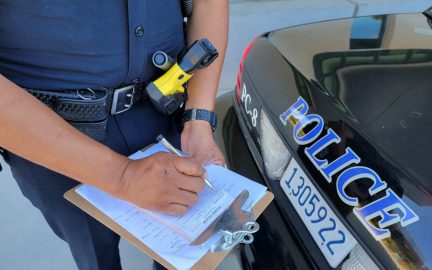 The reporting of crimes is vital in achieving the goal of providing a safe learning environment for the campus community.  All persons who are victims or witnesses of a crime should promptly report the occurrence to the Palomar College Police Department. Reporting of such offenses by victims or witnesses may be done voluntarily. At times, sensitive situations may arise and police officers cooperate with individuals on a confidential basis. Privileges of confidentiality in criminal matters that are referred for prosecution in a court of law may be subject to exposure. Police officers work closely with prosecutors and investigators with the San Diego County District Attorney's Office in these matters and the welfare of the victim or witness is of primary concern.
The Palomar College Police Department dispatch center is located on the San Marcos Campus, and is available seven days a week, 24 hours a day, 365 days per year.  You can reach the police department on a college phone by dialing extension 2289.  The Department also has a direct dial number which we suggest you put in your cell phone (760) 891-7273 (PCPD).  Accessing a blue emergency phone located throughout the San Marcos Campus, will directly connect you to the Palomar College Police Dispatch. If you are unable to contact the dispatch center via phone, you can always email policedispatchers@palomar.edu   .Upon calling or emailing the dispatch center, please provide the following information:
Location, telephone number, and name.
Describe the incident clearly and accurately.
If calling via phone, do not hang up! More information may be necessary to ensure a quick response.
If  you are emailing, make sure to check your emails periodically in case dispatch emails back requesting further information.