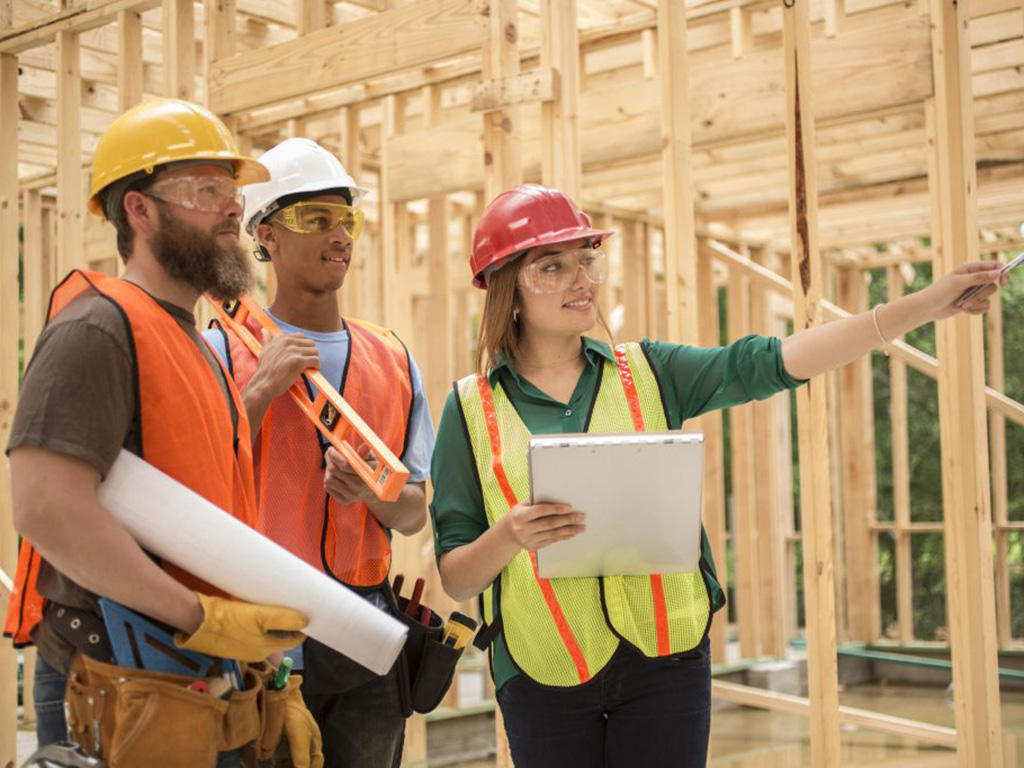 Earn while you learn!
Palomar College, in partnership with local union organizations, provides apprenticeship training programs registered with California Division of Apprenticeship Standards(DAS). Apprentices earn college credit while learning occupational skills in the classroom and implement those skills in paid, on-the-job training while working for local contractors. Apprenticeship wages are a portion of the journeyman wage rate and increase throughout the training program. Upon successful completion of the program, students earn a Certificate of Achievement from Palomar College and a Journey-level Worker Certificate from the CA Division of Apprenticeship Standards.
Instilling excellence in the design of our environments!
The Architecture Department is committed and focused on being the leading provider of education to influence positive change and excellence in the built and natural environments. We celebrate diversity in cultures, beliefs, abilities and needs. We foster a culture of integrity, professional practices, ethical behavior, environmental responsibility and global sustainability. Our instructors will educate, nurture, and inspire our creative-minded  students, immersing them in a culture of professional practices designed to evoke passion and inspiration in the pursuit of their professional goals. Our curriculum is inclusive of individuals pursuing educational enrichment, career and technical training and re-training, certificates of achievement, associate degrees, and transfer-readiness to private schools and universities.
Learn to repair and restore cars.
If collision repair and refinishing sparks your interest or you have the passion to transform vehicles, Palomar College has the training for you! The high demand for skilled Auto Body Technicians will put you in the driver's seat in this career field.  Our program instructors bring their real-world industry experience, industry partners and industry certifications to teach you the hands-on skills needed to reshape and restore a wide range of vehicles. The Palomar College curriculum is developed in close partnership with leading industry partners such as I-CAR, car manufacturers, insurance companies and employers. Palomar College Auto Body Program also uses the latest technologies and equipment in our state-of-the-art labs and classrooms. Visit us today!
PROGRAM OFFERINGS – Associate of Science Degrees & Certificates  Auto Collision Repair – This program will prepare students for an entry-level position in the automotive collision repair industry.

Students, start your engines and enter the field of automotive technology!
Automotive Technology program offering three programs of study:
Auto Chassis and Drive Lines– will prepare students for entry-level positions in all aspects of the Automotive Industry with an emphasis in drive-line repair.
Electronic Tune-Up and Computer Control Systems – will prepare students for entry-level positions in all aspects of the Automotive Industry with an emphasis in drive-ability concerns.
Mechanics – General – will prepare students for entry-level potions in all aspects of the Automotive Industry.
Learn advanced manufacturing using wood as your medium.
Our programs prepare our students to open their own woodworking business or become employed by a high-end woodworking related business. We currently offer an Associate of Science Degree as well as a Certificate of Achievement in 8 different Program Areas. Students may also take coursework to complete a Certificate. Our courses range from Furniture Design and Instrument Making to Production Cabinetmaking.   Our graduates are highly employable with the diversity of courses available.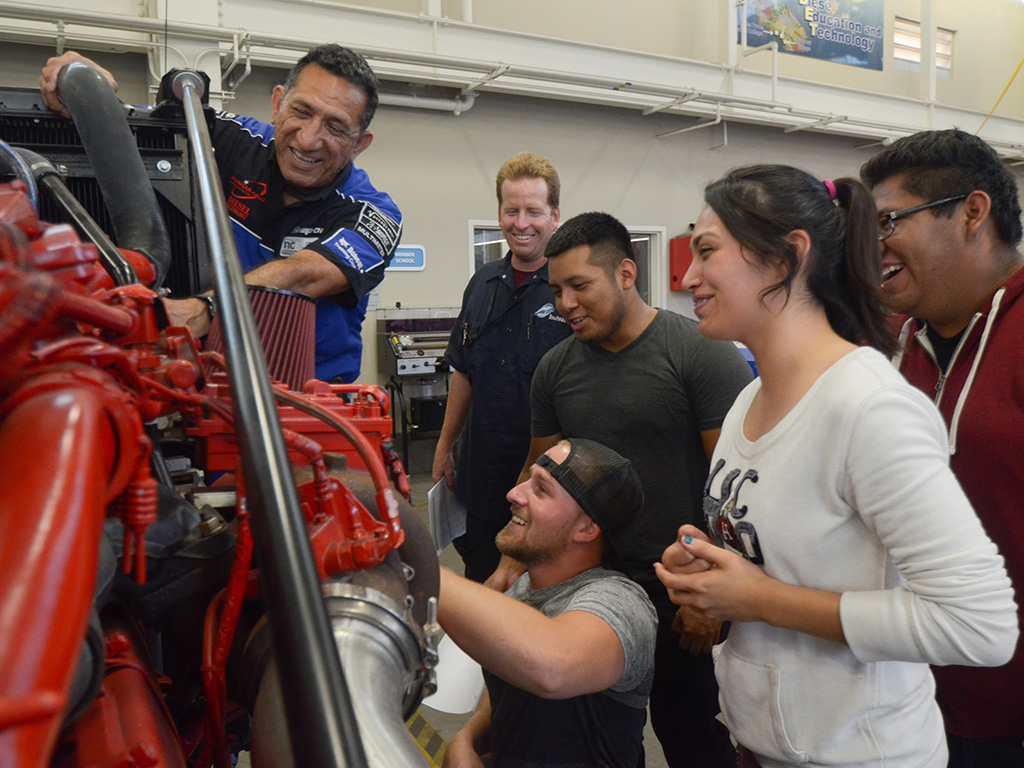 Become a Diesel Technician and earn a good living.
Diesel Technology Program is educating and preparing the Diesel Technicians of the future with the latest technologies and basic soft skills that the Diesel industry now requires.  We are committed to provide highly trained staff and dynamic private and public partnerships with Local, State and National entities.  We work to empower our graduates to make successful career and life choices that improve their lives, their communities, and the economy.
Draw using state-of-the-art computer programs.

Drafting Technology offers AS Degrees, Certificates, and Retraining for individuals interesting in creating a bright future. Our classes are scheduled in the morning, afternoon, and evenings to fit your busy schedule utilizing the latest releases of AutoCAD, MasterCAM, SolidWorks and 3D Studio Max. Classes are hands-on, challenging, and fun. If you have an interest in mechanical design, engineering, machining, or animation, we encourage you take a look at the classes we have to offer. Whether you are changing careers, upgrading your skills, or transferring to a four-year college, our classes offer state-of-the-art equipment and software to meet your needs. What are you waiting for? An idea is just that, an idea, until you get it down on paper. Be the next great designer or be the first, but get the best drafting education available at Palomar College.
Become a drone pilot at Palomar College!
This program will prepare students for employment in many fields that employ drones or Unmanned Aircraft Systems (UAS) in their daily operations.  These fields include mapping and surveying, environmental management, real estate, journalism, search and rescue, agriculture, videography, public safety, as well as cultural resource management and archaeology.  The curriculum will provide students with hands-on training in UAS operations, basic knowledge in drone data processing and analysis, and preparation for the Federal Aviation Administration's Commercial Remote Pilot Exam.
Learn to rule the Fashion World!
Fashion is one of the largest, most well-established industries in California. An education in Fashion serves the individual by providing the background necessary for these careers throughout California and the United States. Palomar's Fashion Program provides an environment which promotes critical thinking, creativity, multicultural awareness, sensitivity to various learning styles, and an understanding of social, organizational, and technological systems. We guarantee appropriate education to meet the needs of this vast industry with Certificates and A.S. Degrees leading to potential transfer to Baccalaureate institutions.
Learn to map information using technology!
This program will give students the technical and conceptual knowledge needed to enter the exciting field of geospatial technology.  In addition to our constantly updated curriculum and state-of-the-art Geographic Information Systems (GIS) laboratory, new equipment and software are regularly acquired in order to keep up with this growing industry.  Our program also has partnerships with four-year universities for students interested in obtaining their bachelor's degrees. This program is perfect for students who are interested in expanding their career options, or anyone who is simply interested in Geography and GIS!