Cabinet and Furniture Technology
Our Mission is to help students prepare to make a living at Woodworking.
Our programs prepare our students to open their own woodworking business or become employed by a high-end woodworking related business. We currently offer an Associate of Science Degree as well as a Certificate of Achievement in 8 different Program Areas. Students may also take coursework to complete a Certificate. Our courses range from Furniture Design and Instrument Making to Production Cabinetmaking.   Our graduates are highly employable with the diversity of courses available.
Sixty-Plus Years of Excellence
We have more than sixty years of excellence (1956-present) with an annual enrollment of more than 1,000 students in over 35 different classes.  The Palomar College Cabinet and Furniture Technology program offers the most comprehensive woodworking career curriculum in the nation. Utilizing three fully-equipped shops, our 2 full-time and 20 part-time instructors provide a breadth of courses and depth of expertise impossible to obtain in smaller programs.
We ask that our students be dedicated to mastering the technical skills of traditional and contemporary fine woodworking.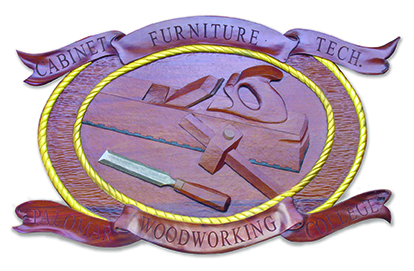 Cabinet & Furniture Technology Program at Palomar would like you to come and see our Brand New Facility built in the Fall of 2013.
We have 4 newly expanded Classrooms, 3 state of the art labs with over $275,000 of new machinery, and $600,000 spent on new exhaust and compressed air systems. We have 4 new CNC production machines, a Haas VF-3 CNC Router and a NEWCNC 4×8 multi head machine and 2 Laguna IQ Routers. Even our shop stools (with cushioned backs) are brand new. We have new course offerings such as our Computer Design Sketchup Class and 8 new Certificate Programs you can choose from.
Located on the San Marcos Campus In the T Building