Our Mission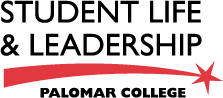 Student Life & Leadership (SLL) sets the standard for an inclusive atmosphere for our students to authentically engage and grow. We are committed to developing and supporting programs that holistically promote student rights, equity, justice and is intentional in serving the basic needs of the evolving community we serve. We inspire personal growth and academic achievement. We foster and mentor students through engagement opportunities involving leadership, advocacy and critical dialogue platforms.
Who We Are
The Office of Student Life & Leadership holds the key to enhancing your college experience. Our Access & Engagement Center (SU-19) is a one-stop center for activities on campus. We host campus wide events, activities, and workshops throughout the year adding to the student benefit of enrolling at Palomar College. We want your experience at Palomar to be full of support both inside and outside the classroom.
What We Do
UPDATE: Thank you for visiting our website. The main campus and all of the education centers are open for onsite & online courses this semester. All visitors, employees and students are required to abide by the health and safety guidelines found at our COVID-19 website.