Our Mission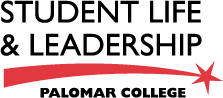 Student Life & Leadership focuses on creating fostering learning environments that engage our students and empower them to develop strong leadership skills, inside and outside of the classroom.
We are committed to providing well-balanced programs and to supporting opportunities for the personal, social, recreational, spiritual, cultural and civic development of our students, to become actively engaged within the campus community and beyond. We value and care for our students and their rights, and embrace diversity by cultivating inclusiveness and enthusiastically engage them in ways to inspire and mentor them.
Who We Are
The Office of Student Life & Leadership holds the key to enhancing your college experience. It is the one-stop center for activities on campus.  We host many campus wide events and activities adding to the student benefit of enrolling at Palomar College. We want your experience at Palomar to be full of support both inside and outside the classroom.
We oversee the Student Union (SU) building, where you will find the Access and Engagement (A&E) Center (SU-19), the Success, Equity, Advocacy, Leadership (SEAL) Center room (SU-18), the Diversity Room (SU-204), the Reflection Room (SU-104), The Hub – Basic Need Resources (SU-22) and the Associated Student Government offices (SU-202 & 203). Leadership training and workshops are offered throughout the year, enabling students to become outstanding leaders.
UPDATE: Thank you for visiting our website.  The main campus and all of the education centers are open for onsite & online courses this semester.   All visitors, employees and students are required to abide by the health and safety guidelines found at our COVID-19 website. Students in need of service should visit our Student Success website or contact their instructors directly.  Please feel free to call our office at 760-744-1150 x2594 or email studentlifeandleadership@palomar.edu for any questions or if you require assistance.  Stay well!