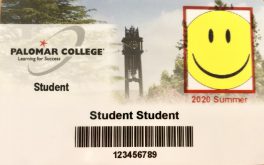 Spring 2023 Student Activity Cards
are now available to purchase
for currently enrolled Palomar Students
This Student Activity Card IS NOT a valid form of government ID and does not not serve as a formal proof of identity in any capacity.
Student Activity Cards can be purchased each semester for $15.00 online or in person. Student Activity Cards are an optional purchase that have benefits associated with it.
Payment options
In Person
Cashier Services (San Marcos campus)
Location: A-2
Visit the Cashier Services for hours of operation and more information
Online
Log into your MyPalomar Account using Firefox as your browser (otherwise you will receive an error message at the payment page)
Under the Student Center tab go to My Account, then click on Activity Cards (IDs)
Take Picture / Receive Card
Get your picture taken and receive your card at the Access & Engagement Center located in SU-19
Hours: Monday – Thursday from 9:00-3:30 pm.
Centers
Rancho Bernardo (2/7) 10:00am – 1:00 pm
Fallbrook (2/14) 10:00am – 1:00 pm
Escondido (2/21) 10:00am – 1:00pm


Card Benefits
A complete list of Fall student activity card benefits can be downloaded here Student Activity Card Benefits Spring 2023.
Extended Evening Hours – San Marcos Campus – SU 19
Wednesday & Thursday (2/1/23 – 2/2/23)
4:00 pm – 7:00 pm
---
Please note, if you lose your Student Activity Card or it is stolen, students are required to repurchase a replacement card for $15 to receive student activity benefits.