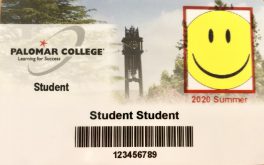 Currently enrolled Palomar students are eligible to purchase a Summer 2022 Student Activity Card. 
Students can now purchase their Student Activity Card at the Cashiers Office (Monday – Thursday) or online through their MyPalomar account using Mozilla Firefox as the browser.
We are now producing Student Activity Cards on-site at the San Marcos campus Monday – Thursday from 8:30-3:00pm. Once you have completed payment please come to SU-201 to have your picture taken and receive your card.
If you are taking online courses we will continue to process student activity cards remotely.
Once you have completed your payment, please email krocca@palomar.edu with your Palomar student ID number and profile picture (jpeg) to be uploaded onto your card.
Picture requirements are the following:
The subject is centered in the photo and looking straight ahead at the camera.
The photo should be framed horizontally from the shoulders to the top of the head.
An uncluttered and light background is preferred.
The photo should be a JPEG image, with a minimum size of 500 x 500.
Student Activity Cards will be produced Monday through Thursday during business hours from 8:30 am to 3 pm. Once your card has been produced and mailed, you will receive an email confirmation. The Student Activity Card will be mailed directly to the address indicated in your MyPalomar account. All mailing shipments will be sent by standard delivery.
---
Please note, if you lose your Student Activity Card or it is stolen, students are required to repurchase a replacement card for $15 to receive student activity benefits.