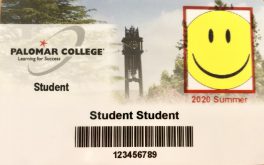 Fall 2023 Student Activity Cards
are now available to purchase for currently enrolled Palomar Students
Fall 2023 Hours

Monday – Thursday 8:30 am – 2:00 pm
Fridays CLOSED
Hours for the production of Fall 2023 semester cards have been reduced due to a lack of staffing. Please contact the Office of Student Life & Leadership (2594) if you need to make an appointment outside of these hours.
---
This Student Activity Card IS NOT a valid form of government ID and does not serve as a formal proof of identity in any capacity.
Card Benefits
Discount Movie Tickets (Regal)
Discount NCTD Sprinter/Breeze Monthly Pass (take card to Cashier's Office)
Free locker usage
Free Scantrons
Free limited printing
Discounts at local businesses and more
Click link to view or download a complete list of Student Activity Card Benefits for Fall 2023.
Payment options
Student Activity Cards can be purchased each semester for $15.00 in person or online. Student Activity Cards are an optional purchase that has benefits associated with it.
In Person
Cashier Services (San Marcos campus)
Location: A-2
Visit the Cashier Services for hours of operation and more information
Online
Log into your MyPalomar Account using Firefox as your browser (otherwise you will receive an error message at the payment page)
Under the Student Center tab go to My Account, then click on Activity Cards (IDs)
Take Picture / Receive Card
Get your picture taken and receive your card at the Access & Engagement Center located in SU-19
Hours:
Monday – Thursday from 8:30 am-2:00 pm
Fridays – Closed
Centers
Cards are not being produced at the centers during summer semester
Rancho Bernardo – Date/Time TBD
Fallbrook – Date/Time TBD
Escondido – Date/Time TBD


Extended Evening Hours
Escondido campus – SSC Lobby
October 4th, 2023 5- 7pm
November 1st, 2023 5 – 7pm
*Pre-payment is required as no cash will be accepted
Fallbrook campus – Student Lounge
October 18th, 2023 5 – 7pm
November 15, 2023 5 – 7pm
*Pre-payment is required as no cash will be accepted
Rancho Bernardo campus – SEC 148
October 11th, 2023 5 – 7pm
November 8th, 2023
*Pre-payment is required as no cash will be accepted
---
Please note, if you lose your Student Activity Card or it is stolen, students are required to repurchase a replacement card for $15 to receive student activity benefits.