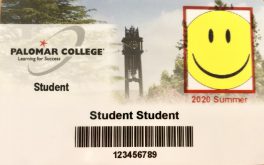 Currently enrolled Palomar students are eligible to purchase a Fall 2022 Student Activity Card
Student Activity Cards are being produced on-site at the San Marcos campus in SU-19; Monday – Thursday from 9:00-3:30 pm. Once you have completed payment please come to SU-19 to have your picture taken and receive your card. Student Activity Card Benefits Fall 2022
This Student Activity Card IS NOT a valid form of government ID and does not not serve as a formal proof of identity in any capacity.
Payment options: You may purchase your Student Activity Card for $15.00 online through your MyPalomar Account or at the Cashiers office at the San Marcos Campus. Please Note: If paying online you need to use Firefox as your browser to open up you MyPalomar account otherwise you will receive an error message at the payment page.
Extended Evening Hours
We will be offering extended evening hours at the San Marcos campus in SU-19 on August 23-24 (Tuesday & Wednesday) till 6:00 pm.
---
Please note, if you lose your Student Activity Card or it is stolen, students are required to repurchase a replacement card for $15 to receive student activity benefits.