Latest Update (3/13/2023)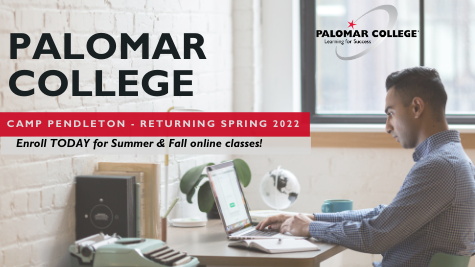 Camp Pendleton is open for in-person, online, and partially online classes.
Please reach out to your faculty member for more information on your course format. For more information on changes school-wide and COVID-19, please visit the COVID-19 page.
For additional Camp Pendleton related questions, please email us at cppen@palomar.edu.
Find Information on Other Departments
Please choose from the buttons below to get COVID-19 updates about general students, international students, veteran students, Camp Pendleton students, and financial aid.
Frequently Asked Questions
Additional Student Resources
Palomar College Student Resources
For resource information for technology, low-cost internet, paying bills, housing, and food and nutrition please click here.
Emergency Grants for Student Funding
To see if you qualify, please visit the Foundation Office website for additional information.
Student Life & Leadership, Students with Dependent Children, and Basic Needs
"Student Life & Leadership (SLL) sets the standard for an inclusive atmosphere for our students to authentically engage and grow. We are committed to developing and supporting programs that holistically promote student rights, equity, justice and is intentional in serving the basic needs of the evolving community we serve.  We inspire personal growth and academic achievement.  We foster and mentor students through engagement opportunities involving leadership, advocacy and critical dialogue platforms."
Location: San Marcos campus, SU-201
Hours:
Monday - Wednesday: 8:00 AM – 4:00 PM
Friday: 8:00 AM – 2:00 PM
Contact Information:
Phone: (760) 744-1150, Ext. 2595
Websites: