We are excited to announce a campus-wide book club for the Spring 2017!  We will be reading and discussing the book "Redesigning America's Community Colleges: A Clearer Path to Student Success".  We hope the entire college will join in this important conversation on how we can increase student success at Palomar.
A big thank you to Student Success and Equity for purchasing 850 books!  You can pick up a copy of the book at Spring Plenary, at the Instruction Office (AA-104), or the PD Office (NS-129).
We will be having chapters discussion bi-weekly and you can also participate in the conversations by visiting the chapter blog posts on the PD blog.
Please print out the following document which includes the schedule of coffee talks, as well as, helpful reading guides for each chapter.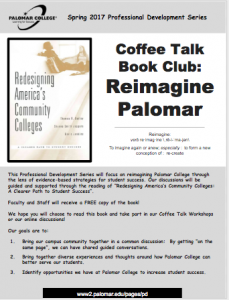 https://docs.google.com/presentation/d/14c0EhGDz_hwtVwauu-ef1DI3wFzrmGoRd9PUE4fAE08/edit#slide=id.p