Our new College Theme for 2019-2020 is "Explore the Possibilities"
The 2019-2020 survey was comprised of theme options from previous top selected themes along with a few more suggested themes from past respondents.
Would you like to use the new logo for flyers, shirts, posters, or even your email signature?  You can download the logo of your choice in 3 different sizes!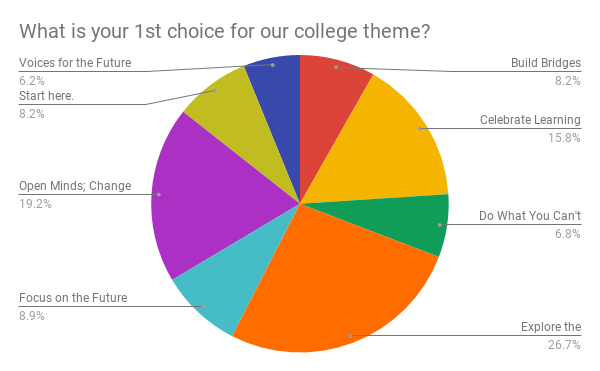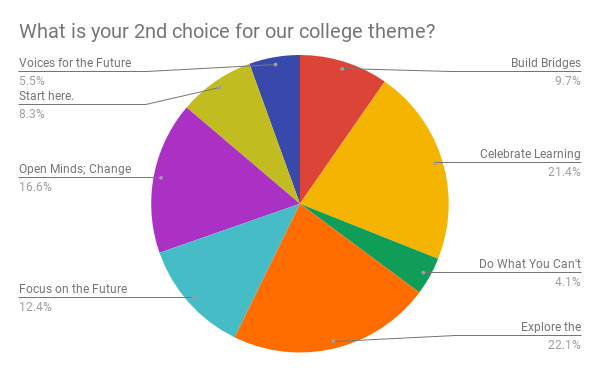 History of our College Theme:
In the Fall 2016 the Palomar College Faculty Senate made the decision to support the return of a common campus-wide discussion similar to a program offered from 2005-2008 called "Campus Explorations".
In response to this discussion, an objective was added to our 2019 Strategic Plan:
Goal 1: Implement instructional strategies that strengthen and connect teaching and learning across the college.

 Objective 1.1: Reintroduce Campus Explorations, a campus-wide learning community, to promote interdisciplinary dialogue and instruction on a topic of importance in society.
The term "Campus Explorations" was replaced with the "College Theme".   The purpose of the college theme is to provide a concept or idea that unifies our college, and reaches our campus community.  The campus theme is meant to resonate with all employees, students, and the community thus it should be one that is broad and interdisciplinary.  In the classroom, a college themes provides a unifying idea that can help students relate information and learning from various courses, thus supporting interdisciplinary connections.
2017-2018 College Theme:  Better Together
To begin the process towards adopting a campus theme, in 2016 an email was sent out to collect theme ideas.  Using the theme ideas, a survey was sent to the entire college to vote on the campus theme.  The Faculty senate reviewed the results of the survey and made the final decision.  The theme chosen for 2017-2018 was "Better Together".
Strategic Planning Priority Funding was available for 2017-2018 to help support the development and offering of activities and workshops that support the theme.  SPPF will not be available for 2018-2019.
To download the Better Together logo for use in campus materials please click here
2018-2019 College Theme:  Better Together 2.0
A survey was sent out to ask if we should continue with our theme Better Together for one more year and 58.5% said YES!  Better Together 2.0 became the theme for 2018-2019.  Unfortunately there was no Strategic Planning Priority Funding (SPPF) available to support the theme for 2018-2019.