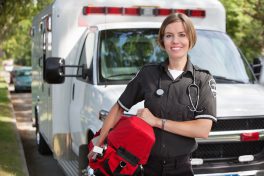 Prepares the student with the knowledge and skills necessary to take the National Registry EMT examination and enter the workforce in the State of California.
Certificate of Proficiency (CP)
To earn a Certificate of Proficiency in this program, simply complete the program requirement courses listed below.
COURSE
UNITS
FACE-TO-FACE at CPPEN
ONLINE
PRE-REQ
EME 100: Emergency Medical Responder
3
Spring 21
EME 106: Emergency Medical Technician (Lecture)
6
Spring 21
EME 100
OR CLS, TCCC, Corpsman
if active duty military or Veteran
EME 106L: Emergency Medical Technician (Laboratory)
1.5
Spring 21
Concurrent enrollment in EME 106
Total Units 10.5
*Classes for SPRING 2021 will be conducted in a hybrid format for both EME 100 and 106.  The lectures will be done online while the labs will be conducted face-to-face on specific days and times. Please check with your instructors once enrolled into your courses.
** Any Active Duty Military or Veteran student who has proof of CLS (Combat Life Saver), TCCC, or Corpsman may have the prerequisites waived.  You MUST also obtain a CPR/BLS Certification for Healthcare Providers through the Naval Hospital, American Heart Association, OR American Red Cross. 
Tuition and fees for this course are listed below.  Please note that this is an estimated amount.  We highly recommend applying for Financial Aid through FAFSA to help pay for theses courses.
EME 100 Tuition and Fees:
Tuition: $138
Course Fees: $51.70**
Total: $189.70
Total w/ California College Promise Grant (through FAFSA): $151.70
EME 106 Tuition and Fees:
Tuition:
$345.00
May be covered by the California College Promise Grant through the FAFSA.
Course Fees (paid to Palomar): 
$196.00**
Includes $100.00 testing fee at the end of course
Additional Course Fees (paid during course):
Fisdap Study Tool: $31.25**
Fisdap Skills Tracker: $15.75**
Uniform: $225.00**
Total: $813.00
Total with California College Promise Grant: $468.00
**Items may be covered by additional Financial Aid if qualified through FAFSA.