Please utilize the
Site Menu

to find specific information related to what we offer

Palomar College Paramedic Training has had many amazing students over the years who have gone on to careers in EMS. We're especially proud to create a positive environment for learning EMS and developing friendships that last.
Welcome to the Emergency Medical Education Department
Please check out our EME FAQ page for additional information!
Application period for COHORT 63 will open on August 21st and close on October 27th, 2023.
---
We encourage students to check your Palomar student email and Canvas accounts
for information regarding your classes!
Please visit our menu for information about courses and programs offered leading to careers in the
Emergency Medical Service field
SAN DIEGO PROTOCOL BOOKS:
If you are looking to purchase a San Diego protocol book, you can purchase it directly from their website @ CAparamedic.org.
Direct link to the protocol books: https://caparamedic.org/products/
For information on the Palomar Fire Academy or other Fire courses, contact the Fire Technology Department at (760) 744-1150 x1704 or visit their web site at www.palomar.edu/fire
For General Information on starting a career in EMS in San Diego County, please refer to the following web site. www.firefightermedic.com
Click the "Palomar Powered" link directly below to view a pathway of courses leading to both Fire and Paramedic Academies!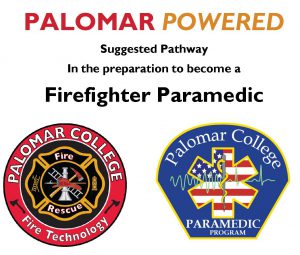 Image Sources
20220926-4A1A5361: Andrew Page | All Rights Reserved
IMG_7953: Andrew Page | All Rights Reserved