EME 106/106L
EME 106 AND EME 106L: EMT BASIC LECTURE AND LAB
***IMPORTANT: DO NOT ENROLL IN THE EME 106 L (LAB SECTION). YOU WILL BE GIVEN A PERMISSION CODE ON THE FIRST DAY OF CLASS TO ADD THE LAB. ***
About our EMT-B courses
The Palomar College EMT courses are approved by the San Diego County EMS Agency for training and CE provider.
What is an EMT-Basic?
An Emergency Medical Technician EMT-B is a trained individual who provides basic life support at the scene of a medical emergency to prevent further injury after the initial incident.  The EMT-B maintains necessary body functions of the victim prior to the arrival of advanced life support units and during transport to the nearest hospital.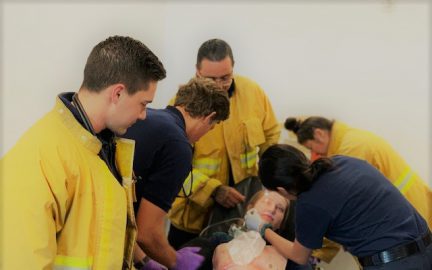 Following EME 105
EME-106 – 106L EMERGENCY MEDICAL TECHNICIAN BASIC Lecture and Lab class. The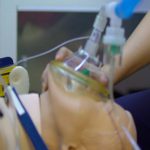 Emergency Medical Technician Basic program is offered each semester, including the Summer session. This course consists of classroom lecture and skills labs where basic life support skills are learned. This class is also a prerequisite to the Fire Academy. Additional 24 hours of observations in the field are required.  An 80% grade point average is required to obtain a course completion certificate, which is mandated by the San Diego County Department of Emergency Services before the National Registry EMT-B written and skills practical exam can be taken. Both day and evening classes are offered each semester, including summer. You must be at least 18 years of age by the first day of class to take this course.
Medical Requirements
TB Test – All students registered in EME 106 and EME 106L must submit results of a current TB test that is less than 1 year old.  Your TB test must be current during the duration of the entire course.  If it expires during the course, you must submit new results before your current TB test expires.
Student Health Center
In order to fulfill the requirements for the TB test, our Student Health Centers offer low-cost TB tests (currently $15). Walk-ins are welcomed, but appointments are preferred. There are available clinics at the San Marcos, Escondido, and Rancho Bernardo campuses. The San Marcos location also offers the DMV physical for ambulance endorsement. We highly recommend taking advantage of these convenient and inexpensive options offered by Palomar College.
Palomar College Health Services Website
National Registry
Upon successful completion of this course you will earn an EMT-Basic Course Completion Certificate which allows you to take the National Registry EMT-Basic exam. Upon passing that practical and written portions of this exam, you will be able to earn a state EMT-Basic certificate and be employed in the county.
Costs
Tuition is $46.00/unit for all credit courses. The cost of books can range from $90 to $120. There is also a one-time materials fee of $24.00 for this course and a testing fee of $100 at the end of the course.
NOTE: To participate in the Clinical observation time, you may be required to have a flu shot and/or additional vaccines. Be warned that if you choose not to have these injections, your required clinical time may be cancelled and therefore you will not successfully complete the EMT course. Please see "Medical Requirements" above.
EMT Accreditation
We are a state and county approved EMT Basic and EMT Basic Refresher training program:
http://www2.emsa.ca.gov/ShowTraining/TrainingPrograms/GroupByTrainingProgramsTable.aspx
Training Programs – CaliforniaEMS Corps EMT Training Program. Service To. Employees only. Contact. Elsie Kusel. Phone Ext. (510) 481-4197. Address. 1000 San Leandro Blvd.

www2.emsa.ca.gov
A copy of the approval letter from San Diego Co EMS to provide EMT Basic and EMT Basic Refresher training courses will be provided upon request.
Any complaints against Palomar College EMT Basic training program should be discussed with the program director first.  If the student is not in agreement with the actions taken or result of the decision, the student may contact San Diego Co. EMS
Gary Laugen, EMS Specialist
Emergency Medical Services
Medical Care Services Division
County of San Diego Health & Human Services Agency
C: (619) 695-9146