What is a Paramedic (EMT-P)?
An EMT-P provides advanced emergency treatment to patients in the pre-hospital setting. Saving lives is the most rewarding aspect of a paramedic career. The well-trained paramedic can also reduce the length of a patient's hospital stay by preventing the danger of more serious injury that could occur through incorrect treatment in the stages before hospitalization. Paramedics are in high demand in both private and fire department settings.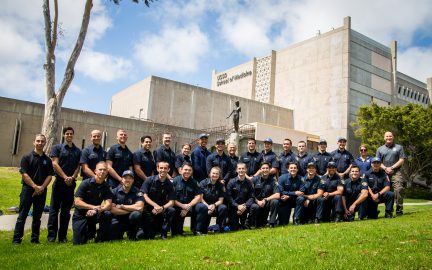 How do I become a Paramedic?
To be eligible for the Paramedic Program, you must be a high school graduate or equivalent. Applicants must also possess a current EMT-Basic certification and must have worked in the field (pre-hospital experience) with at least 1200 hours of PAID work experience (EMT hours gained in the reserve fire fighter role will be accepted as long as the applicant has been assigned as an EMT and is functioning in that role when on duty with the fire department) prior to application deadline.  In addition, applicants must have completed a college level Anatomy & Physiology-BIO-145 (formerly ZOO 145) and the Paramedic Prep (EME-175& 175L) classes.
Costs and fees are listed on the "Fees" page of this web site.
Acceptance into the Paramedic Program is by special application and you must undergo a testing and interview process. If you meet all qualifications, you can complete an application from this website during the open application period. Our application period for the January class begins in September to October. Our application period for the August class is February to March. Applications are available on our web site at these times.
The Paramedic Academy is two semesters. The first semester is the didactic (lecture) portion of the program; classes are four to five days per week. The second semester consists of four weeks working in the hospital clinical setting performing direct patient care. Then you are assigned a field internship for the rest of the internship. This internship lasts approximately 2.5 to 3 months.
During the field internship, the student is assigned to a Paramedic Field Preceptor where you actually work alongside trained Paramedics at area Fire Departments and private ambulance services. This internship gives you actual hands on field training and prepares the student to take the National Registry EMT-P exam for licensure.
Paramedic Academy Minimum Goals:
"To prepare competent entry-level Paramedics in the cognitive (knowledge), psychomotor (skills), and affective (behavior) learning domains with or without exit points at the Advanced Emergency Medical Technician and/or Emergency Medical Technician, and/or Emergency Medical Responder levels." 
Program Learning Outcomes:
Upon completion of the
Paramedic Program
, the student will have developed the knowledge and skill necessary to demonstrate proficiency in the psychomotor skills necessary to fulfill the role of an entry level paramedic.
Upon completion of the
Paramedic Program
, the student will demonstrate competency by performing a thorough patient assessment and integrate pathophysiological principles and assessment findings to formulate and execute a proper treatment plan for a patient experiencing a medical and/or traumatic emergency according to current national, state, and San Diego County protocols.
Paramedic Academy Courses
EME 206/206L – Introduction to Paramedic Training
EME207/207L – Paramedic Medical Training
EME 208/208L – Paramedic Trauma Training
EME 209/209L – Paramedic OB/Peds Training
EME 210 – Clinical Internship
EME 211 – Clinical Integration I (Taken concurrently with EME (207-207L)
EME 212 – Clinical Integration II (Taken concurrently with EME (208-210)
EME 215 – Field Internship
Additional Specialty training courses included in the program are:
T.E.C.C.
A.C.L.S.
P.H.T.L.S.
P.E.P.P
NOTE: To participate in the hours required for your Clinical internship, students are required to have a flu shot and/or H1N1 vaccine and have received their Covid-19 vaccine. Be warned that if you choose not to have these injections, your required clinical time may be cancelled and therefore you will not successfully complete the Paramedic Program.
NOTE:  All paramedic students, once accepted into the Paramedic program,  must submit a copy of current TB test results that are less than one year old.   Your TB test must be current during the duration of the entire course.  If it expires during the course, you must submit new results before your current TB test expires.
NOTE: A background investigation must be completed prior to acceptance into the paramedic program. The search will include the following:
Criminal History Record Search
Social Security Number Trace (residential history, year and State SSN issued)
OIG/GSA – Medicare/Medicaid Excluded List
Nationwide Sex Offender Registry
10-Panel Drug Screening-first dilute urine reading disqualifies a person from entering the program
Never initiate the background check until officially accepted into the paramedic program. Due to the strict requirements of each clinical site, students with any of the following situations may be denied acceptance by the clinical site and, therefore, may not be allowed to begin and/or continue in the paramedic program:
Felony convictions of any kind
Drug related offenses
Conviction of abuse, battery, violence, hate crime, theft or dishonesty
History of repeated offenses
Active warrant for arrest
On probation of any kind
Dilute urine drug screening-1st test
The background check procedure should not be initiated until advised by the EME Department.
Paramedic Functional Job Analysis link, HERE
For more information or questions about the Paramedic Program, please fill out the form below.