EME 175/175L
The Paramedic Prep courses are designed to prepare the EMT-Basic for the Palomar College Paramedic Program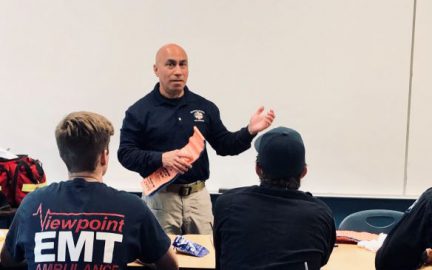 Our Paramedic Prep class is specifically designed to bridge the knowledge and skills sets of EMT-B certified students to entry level paramedic students.  The class has a heavy emphasis expanding the understanding of pathophysiology's, paramedic vital signs, and paramedic level assessments. Through the use of simulations and under the guidance of our licensed paramedic instructors, students will have the opportunity to expand their knowledge, patient assessment skills, and emergency medical management capabilities.
Please note, this class requires students to have 3 months of paid full-time EMT-B experience completed prior to the first day of class. The Paramedic Prep course is three units, which includes the lecture and lab (required to take concurrently).  The complete course is two days a week for eight weeks, and therefore is offered during the first half of both spring and fall semesters, as well as once over Summer.
*All students registered for this course must have a current San Diego County Protocol book, which is available for purchase through the  website below*
*Due to Covid-19 restrictions we may offer a second class during spring and fall Fast Track 2, but not at this time.
PROTOCOL BOOKS:
If you are looking to purchase a San Diego protocol book, you can purchase it directly from their website @ CAparamedic.org.
Direct link to the protocol books: https://caparamedic.org/products/
ALERT!!! NEW CLASS OFFER TO PREPARE STUDENTS FOR OUR PARAMEDIC ACADEMY!!!
EME just launched our EMT and Paramedic prep noncredit courses.  These are short, 4 week, completely online crash courses that prepare the student for entrance into the medic program.  The courses cover medical math, basic pharmacology, medical terminology and basic EKG knowledge. You can find these classes in the schedule.
NMEDC 903 has been designed for students who have successfully completed EME 106/106L and are wanting to apply for the paramedic program.  This course expands on pharmacology, med math and introduces the students to cardiology.