Our medical team in the Student Health Centers is available during our hours of operation. We provide a range of basic medical services for Palomar College students in-person and via Telehealth. Over-the-Counter medication and supplies are also available for pick up.
Please come in or call ahead to speak with our administrative staff who will assist you with scheduling an appointment: (760) 891-7530.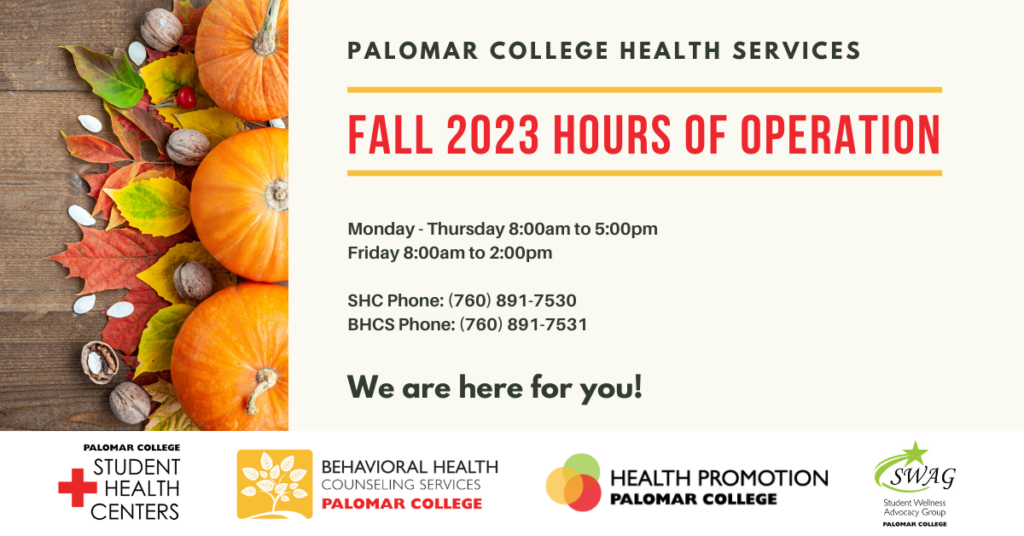 Fall 2023 Hours: August 21 – December 15, 2023
San Marcos Campus: HC Building
Monday – Thursday 8:00 a.m. to 5:00 p.m.
Friday 8:00 a.m. to 2:00 p.m.
Modified Hours during Thanksgiving Week
Monday – Wednesday (November 20-22): 8:00 a.m. to 4:30 p.m.
Escondido Education Center: ESC-203
Tuesday & Thursday 8:00 a.m. to 12:00 p.m.
Closed Thanksgiving Week: November 20 – 24
Rancho Bernardo Education Center: Room SEC-142
Wednesday, November 15 & 29: 9:00 a.m. to 1:00 p.m.
Campus Holidays
November 23-24, 2023 – Thanksgiving
December 20, 2023 – January 1, 2024 – Winter Break