We are here to help!
Please call us to explore whether we can help you, through behavioral health counseling or referral to more appropriate services.
If you or someone else is in crisis, we can help. We hope you will find everything you're looking for in these BHCS pages. If not, we're just a phone call away: (760) 891-7531.
Fall 2022 Hours
August 22 – December 16, 2022:
Monday – Thursday 8:00am to 5:00pm
Friday 8:00am to 12:00pm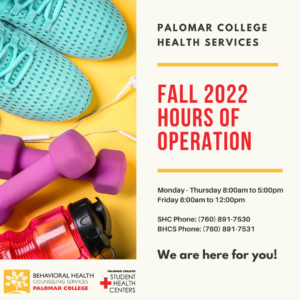 Closed on Holidays:
September 23, 2022 – Native American Day
November 11, 2022 – Veterans' Day
November 24-25, 2022 – Thanksgiving
December 21-30, 2022 – Winter Break