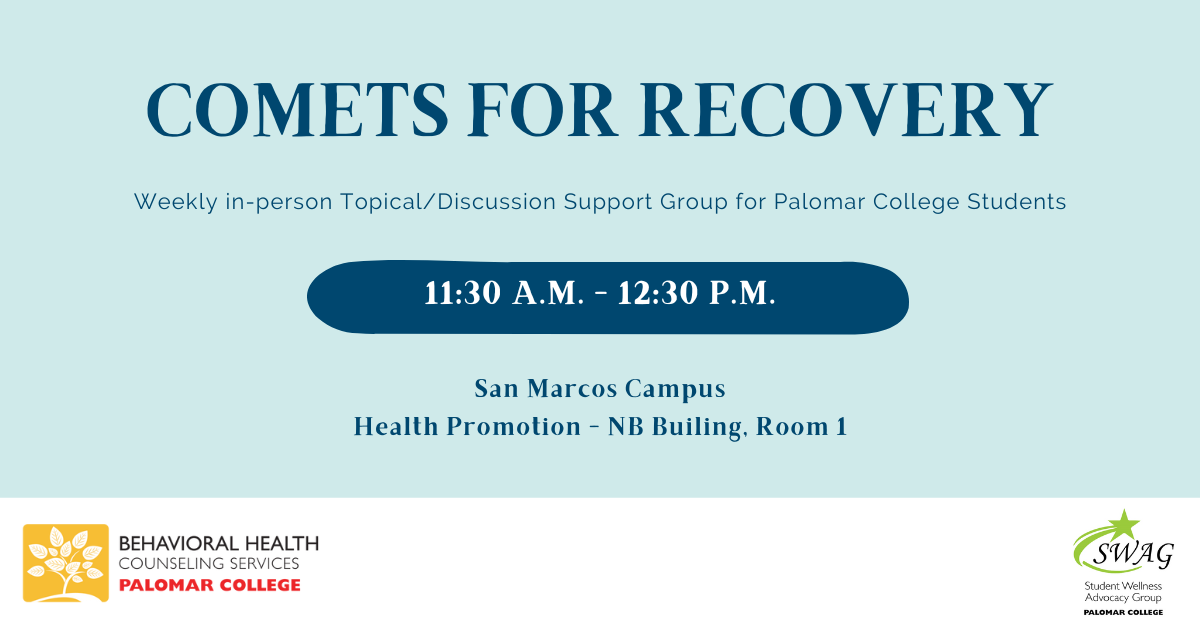 Psychotherapy Groups usually meet weekly during a given semester, except when indicated by the group facilitator(s).
Comets For Recovery - Mondays 11:30 a.m. - 12:30 p.m. in Health Promotion (NB-1)

Interested in learning more about addictions and recovery? Please join us for a group designed to focus on and discuss key aspects of addictions and the process of recovery. This weekly in-person Topical/Discussion Support Group is for Palomar College students and starts on Monday, March 13th, 2023.

Creating Space / Creando Espacio - Tuesdays 12:00 p.m. - 1:00 p.m. via Zoom

Weekly Support Group for Palomar College students starting Tuesday, March 14th, 2023 offering Latinx students a supportive space to gather, learn and share common experiences. To join this group, please register here. After registering, you will receive a confirmation email containing information about joining.
Note: Workshops and Community Forums are not professional counseling. If you would like professional counseling or mental health treatment, please contact the BHCS office at 760-891-7531 to schedule an appointment.
Visit our Health Promotion Page
For Details on Upcoming Events