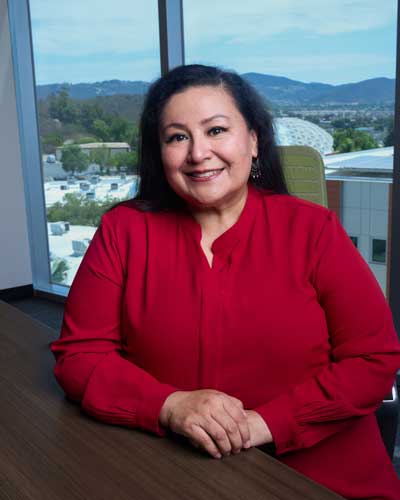 Star Rivera-Lacey, Ph.D. Superintendent/President
Welcome to Palomar College! We are excited that you have chosen us as your institution to achieve your degree, certificate or increase your knowledge in your chosen career. Your success is our number one priority! We are committed to supporting your academic, career, and personal goals.
Palomar College has a strong history of creating a real-world learning environment that will allow you to explore, thrive and achieve in your areas of interest. We offer over 200 associate degree and certificate programs and career training opportunities.  For 77 years, Palomar College students have been achieving their educational goals at their our own pace and within a budget that works for them.
We know your schedule is busy so we offer many of our programs completely online.  The majority of courses are offered at our main campus in San Marcos as are the support services available to help you succeed.  Programs, courses, and all the services you need are also offered at our Education Centers in Escondido, Rancho Bernardo,  and Fallbrook, and at the education sites at Camp Pendleton and Ramona.
Palomar College has a rich culture that supports academic excellence, innovation, cultural diversity, equity, global influence and community partnerships. Our faculty are scholars recognized for their contributions in higher education with initiatives that are relevant, responsive and impactful. You have made an excellent choice by selecting Palomar College.  We are honored that you are part of the legacy of achievement for years to come.