Contact information
Building Hours
7:30 AM - 10:00 PM
Phone: (760) 744-1150 Ext. 8464
Note: On-site departments have varying hours and phone numbers. See Student Support Services for details.
Parking Information
***CITING FOR NO PARKING HAS BEEN TEMPORARILY SUSPENDED FOR STUDENTS/STAFF UNTIL MARCH 7, 2022.***
A valid permit is required at all times. Students may purchase a full-semester parking permit for $46 through our digital parking permit system by logging into your MyPalomar Account. For information on obtaining a digital permit, please visit the Palomar College Police Department website.
Visitors to the Fallbrook Education Center are required to pay through the ParkMobile App. ParkMobile is an app that can be downloaded on smartphones and tablets through the Play Store. If you do not have a device, or do not wish to download the app, you may call ParkMobile toll free # 877-727-5932
• Download the ParkMobile app for payment.
• The Fallbrook    ParkMobile zone number for visitor spaces is 7512
• The rate is $1 for 1 hour, up to 4 hours.
Parking is designated in the parking lot closest to the North entrance, to the far left of the C-01 building. Green ParkMobile signs have been posted in this lot designating the approved area for parking.
For parking lot location, please refer to the map below.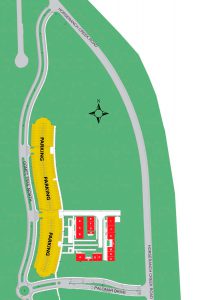 Location and Directions
From the West: Take CA-76 EAST to HORSE RANCH CREEK RD. Turn LEFT onto HORSE RANCH CREEK RD. The NORTH EDUCATION CENTER is on the LEFT.
From the North: Take I-15 S toward SAN DIEGO. Take EXIT 51. Turn LEFT onto OLD HWY 395. Follow OLD HWY 395 to Turn LEFT onto STEWART CANYON RD. Turn RIGHT onto HORSE RANCH CREEK RD. The NORTH EDUCATION CENTER is on the RIGHT.