How a High School District Requests an Articulation Agreement
Please review our Course Outlines to find the Palomar College course that best aligns with your high school course. Agreements are valid for three years, and renewal requests are required every three years in order to maintain the articulation agreement.  Articulation Agreement requests are accepted from November 1, 2022 through February 15, 2023 and if approved, will go into effect for the 2023/2024 academic year.  The Palomar College CTE Office will send notification to High School Instructors/Districts by May 15, 2023.  The notification will include:
Effective dates for the articulation agreement
Instructions for the annual review process
Instructions for the resubmission process (in third year)
Next steps and calendar of deadlines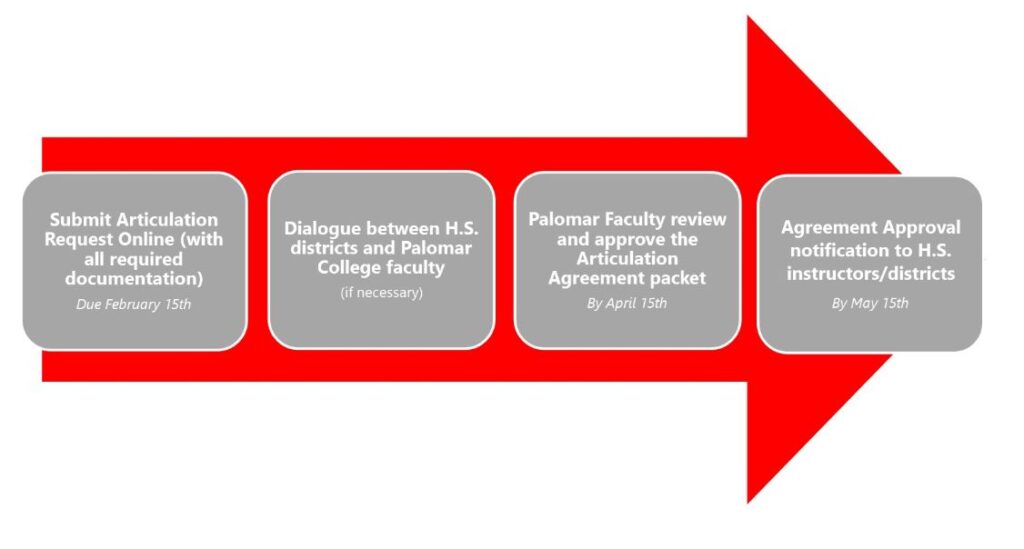 What Palomar College Faculty Are Looking For
Content of the articulated course is aligned with the course outline of record; and
Examination process adequately measures mastery of the course content as set forth in the course outline of record
High School Instructor Implementation Responsibilities
High school instructors are responsible for the following:
Inform students and their families of the articulation opportunity. Ensure they understand this is not dual or concurrent enrollment and inform them of the requirements and process to earn the college credit.
High school instructors must adhere to all implementation deadlines for their school.
High school instructors must create CATEMA accounts and submit rosters and grades by the established deadlines.
Ensure students are completing the required steps:

Complete admissions application each year they are in an articulated class. We cannot transcribe grades for a student who is not in our college records. The admissions application (CCCApply) generates the student record. Students must submit a new application every year because accounts are deactivated after two terms of non-enrollment, preventing the college from enrolling the student and transcribing their grades. The account deactivation is required by California legislation.
Students must register in CATEMA by the school specific deadline. The college doesn't have access to K12 student information systems. Therefore, we utilize CATEMA to track rosters and grades.

Credit Transcription Process & Timing
Credit is transcribed during the fall for the previous spring term. For example, credit earned during the 2021-22 school year will be transcribed during the Fall of 2022, and appear on the students' transcript as Spring 2022.
The deadline for high school instructors to enter grades and credit recommendations into CATEMA is June 15th.  After high school teachers have entered students' grades and credit recommendations, Palomar College staff pulls records from CATEMA, so we can enroll students in the course and transcript their credit. Due to the high volume of students and classes, this is a lengthy process. We transcript the FINAL EXAM GRADE from CATEMA with a notation of "Credit by Exam."
Last modified on April 17, 2023