Step 2: Find your placement group
Find your placement group on the bottom right-hand portion of your MyPalomar account page.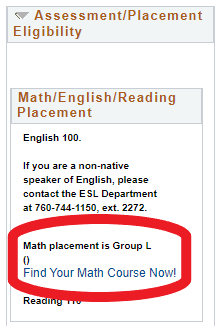 For help on selecting your major at Palomar College:
Step 4:

Recommended Math Course Descriptions
First, choose your pathway: BSTEM or SLAM. Then, explore the list below to find detailed course descriptions. 

 
Step 5: Reach out for placement assistance
Schedule an appointment with a counselor using our online system or call the Counseling Front Desk at (760)-891-7511.
OR email assessment@palomar.edu
Step 6: Prepare for Math Success
Click below for math review options. We offer free 4-hour workshops and low-cost 3-week courses.