Palomar College is a breastfeeding-friendly campus offering support and resources to breastfeeding students and employees.
Lactation Pods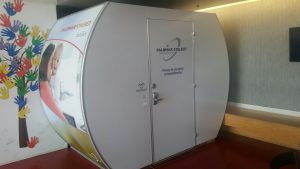 Clean, private spaces for breastfeeding and pumping are conveniently located on the main campus in San Marcos and at the Escondido Center. Each pod locks securely from the inside, is brightly lit, and comes equipped with electrical outlets. They're also Americans with Disabilities Act compliant and accommodate wheelchairs.
Current pod locations include:
San Marcos: Inside the Learning Resources Center (LRC/Library) (map)
Escondido Center: Next to the Teaching and Learning Center (map)
The pods are accessible by using a key code. To obtain the current code, please contact:
Students: Call the Student Health Center at (760) 891-7530
Employees: Call Human Resource Services at (760) 744-1150 ext. 2889
If you have general questions about using the pods, want to request a key code, or need to report a cleanliness or maintenance issue for one of the pods, you may also send a confidential email to lactationsupport@palomar.edu.
Early Childhood Education Lab Schools
Palomar College's Early Childhood Education Lab Schools (ECELS), located on our San Marcos and Escondido campuses, provide high-quality toddler and preschool programs for children ages 18 months to 5 years old. Full and part-day programs are available. Palomar students may qualify for free or reduced childcare costs. Parents are encouraged to contact the ECELS to find out about waitlists and possible openings.
Contact information: (760) 744-1150 ext. 2575