Get your certificate or associate's degree in GIS in 3 easy steps!
Step 1: Apply for Palomar College admission here. 
Step 3: Complete the required courses and apply for your certificate or degree by filling out this form.
Please review our program brochure for more information or contact us at wcheung@palomar.edu.  
Thank you for your interest.  We look forward to seeing you at Palomar College.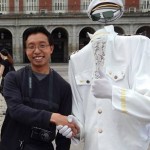 Wing Cheung PhD, GISP
Professor of Geography
GIS Program Coordinator,
Palomar College, San Marcos, CA 92069
Assistant Director, National GeoTech Center of Excellence