Next course offering planned for Spring Semester 2023 (8 weeks from April 3 -May 27)!
The Department of Earth, Space, and Environmental Sciences at Palomar College is pleased to offer a regional field course, in conjunction with the UC California Naturalist program, focused on the natural history of San Diego County. Through this partnership, we'll combine place-based education focusing on how local natural systems function with the opportunity to obtain a valuable statewide certification as a certified California Naturalist.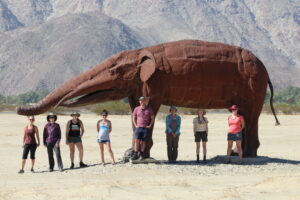 What is the California Naturalist Certification?
The UC California Naturalist program, a statewide program of the UC Division of Agriculture and Natural Resources, collaborates with California Community Colleges and other local partner organizations to deliver California Naturalist certification courses. These courses are designed for adults including college students, teachers, docents, land stewards and nature enthusiasts wanting to develop a sense of place and participate in service learning and stewardship of natural resources. After completing this 40+ hour course you can become a certified California Naturalist joining over 4000 Naturalists around the state who have, in turn, volunteered over 200,000 hours in service to nature in the areas of education and interpretation, stewardship, citizen science, and environmental program support (Details from UCANR).
Course Details
This 1.5-unit course, GEOG 195, fulfills partial requirements of the Associate's Degree in Geography as well as all requirements of the California Naturalist certification. There are no prerequisites!  If you are new to studying nature we welcome you! It will include 8 weekly online meetings along with 4 Saturday field trips ranging in length from 4 to 8 hours. The schedule is as follows:
Evening lecture sessions (x8). These sessions will be held live online and will include a mix of lecture, guest speakers, and activities.
Saturday field trips (x3-4). These trips will include an introduction to techniques and concepts of natural history study in the field. General topics include an introduction to the course and habitats of San Diego County, the mountains of San Diego County, deserts and water management, and coastal geology and habitats. For Spring 2023: Three full-day trips planned for 4-22, 5-6, & 5-20 and one shorter self-directed trip during the first week of class.
Cost
The total cost of enrollment in the course is between approximately $150 and $200 payable at two stages in the enrollment process:
There is a mandatory fee in support of the California Naturalist Program of $55 for full-time students and $110 for other community members and part-time students. This fee must be paid prior to the issuing of a permission code for the class.
Then, Palomar College will charge approximately $90 for the 1.5 unit course upon enrollment.
Private transportation is also required for the field trips. Depending on pandemic restrictions, carpooling may be possible.
Enrollment Instructions
To enroll in the class, please follow the steps outlined below:
If you're not already a Palomar student, you will have to apply to to the college. Please refer to the application instructions at this link. More details about the process can be found on Palomar's Steps to Enroll page.
Once enrolled at Palomar, you must pay the mandatory course fees ($55 or $110, see above) using the California Naturalist Certification Course Fee Payment Form.
Once the payment is made, the instructors are notified and will allow you to enroll in the course via MyPalomar. Please allow a couple days for processing.
Log in to MyPalomar to complete enrollment. At this point you'll be required to pay Palomar's fee for the 1.5 Units (~$90).
About a week or so prior to the course, visit the Course Canvas Page for details, syllabus, and announcements (around mid March). Course announcements will go to your Palomar email account by default!
For questions, please reach out to Professor Crook at scrook@palomar.edu or Professor Jain at cjain@palomar.edu.
If any of the following San Diego County scenes leave you scratching your head and wondering how these things work… this course is for you!