G

aining

E

arly

A

wareness and

R

eadiness for

U

ndergraduate

P

rograms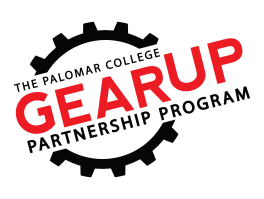 GEAR UP is a grant-funded student program offered through Palomar College and partnering at local schools within the Fallbrook Elementary Union, Fallbrook High, Vista Unified, and Valley Center-Pauma Unified school districts. GEAR UP offers college readiness and outreach services to the graduating classes of 2022 and 2023. GEAR UP works to support students in preparation to attend post-secondary schools, particularly for at-risk, low-income, and first generation college-bound students. GEAR UP is a matching and proven United States Department of Education grant that puts federal tax dollars, in collaboration with business partners, back into our educational system.
Program Goals
Increase academic performance and preparation for post-secondary education.
Increase high school graduation and participation in post-secondary education.
Increase GEAR UP student' and their families' knowledge of post-secondary education options, preparation, and financing.
Services
College Visits
GEAR UP provides opportunities for students to interact with university leadership groups and academic programs within and outside of the San Diego region.
Tutoring
 In-class tutoring provides homework help and cultivates study skills within students.
PEAS
PEAS are Programs, Events, Activities, and Services that GEAR UP provides for their students.
Schools Being Served in 2022-2023
Fallbrook High School

Rancho Buena Vista High School

Valley Center High School

Vista High School
---