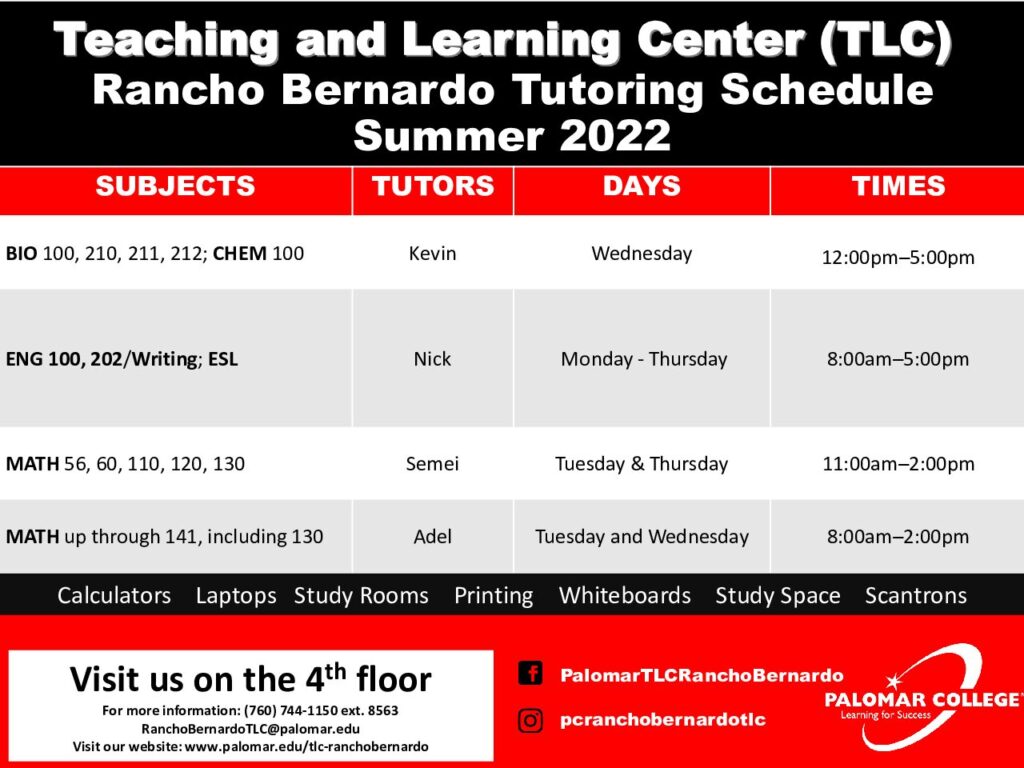 All tutoring at Rancho Bernardo is walk-in tutoring. No appointments.
Important Information About Covid-19
Pursuant to the Palomar College COVID-19 Recovery Plan (PCCRP)
Prior to coming to campus, students and employees are required to complete the daily health pre-screening form on Cleared 4 platform here. Haga clic aquí.
While indoors, all employees, students and visitors to campus can wear a facial covering, regardless of vaccination status. This includes classrooms and all campus meeting spaces.
Tutoring and front desk help are available online via the Online Tutoring Course in Canvas and in person!
Email: star@palomar.edu
Phone: (760) 744-1150 x2448
TLC Rancho Bernardo is OPEN to all students who have been cleared for Face-to-Face classes.!
Do you need to print? Come to the TLC! Click here to get started, and then come to the TLC to release and get your document.
The Teaching and Learning Center Rancho Bernardo is OPEN.
Online tutoring is offered in the areas of accounting, business, computer science and information technology (CSIT), English, ESL, math, science, STEM, Spanish, and statistics. Click on this link to enroll in the Canvas Online Tutoring course where you will have access to all of our tutors. This service is free to all Palomar students. Once you enroll in the course, you will be able to access the course and our tutors from your Canvas Dashboard.
Palomar College hosts vaccinations at centers and the main campus. Click here to learn more.
Watch this video to learn how to connect with tutors:
The TLC RB location is OPEN for face-to-face tutoring. Visit us on the 4th floor in RB or online through Canvas.
Why Work with a Tutor Online or in person?
Receive supportive, focused and on-task assistance
Develop strategies for success in your courses
Acquire effective learning and problem-solving strategies
Work through confusing course concepts
Develop exam preparation skills
Receive guidance on homework problems
Reinforce the knowledge you know and build new knowledge through discussion with a tutor
Take advantage of any help your instructor wants to give (office hours, zoom meetings, etc.) Please also check resources linked above and on the left.
*********************************************************************
TLC

Last modified on June 23, 2022