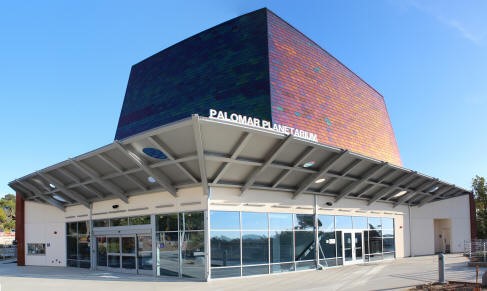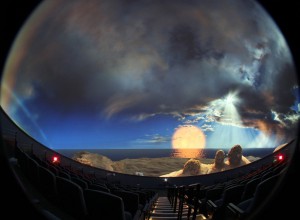 Project Delivery Method: CM Multi-Prime
Project Budget: $8.7 million
Construction Start Date: May 2010
Completion Date: January 2012
Occupy Date: March 2012
Bond Series: A
Scope/Summary:
Currently the 5th largest planetarium in California
Theater has 138 seats that sit under a 50-foot Astrotec dome. The presentations are largely driven by the Digistar 4 system.  To produce the fulldome images on the dome, two JVC digital projectors equipped with wide angle lenses work together to create one image.  Each projector provides 5000 lumens and produces a 4096 x 2048 display – together the image on the dome is 4096 x 4096 (4K) in size.
In addition to the Digistar 4 system, the Planetarium is equipped with at Christie digital projector for presentations that do not require the D4 system.
The audio system is a 5.1 surround sound system that uses 8 speakers located outside of the dome to provide a rich ambient sound using 11,000 watts of power.
Full production studio consisting of an editing room and recording room. A Digistar 4 producer station allows Planetarium staff to produce and render shows without using the resources of the Digistar 4 system that runs in the theater.
Editing room is lined with sound modifying acoustic wall panels and has a 5.1 surround sound system.
Adjacent to the editing room is a recording room lined with sound modifying acoustic wall panels.
Sustainable Features:
Proximity to public transportation for surrounding public access to shows
Exemplary indoor air quality will be achieved with more air changes and an air filtration system
The building employs sun shading devices to reduce heat gain while permitting ample natural lighting
Contains low-flow toilets and utilize infrared-sensor faucets
The steel structure, metal building framing, and metal roof materials composed of high recycled content
Project Team:
Architect: tBP/Architecture
Construction Manager: Swinerton Builders
Civil Engineer: VA Consulting
Electrical: FBA Engineering
Mechanical Engineer: GLP Engineering
Structural Engineer: John A Martin
Landscape Architect: Land Architecture
Facilities Planning Manager: Kelley Hudson-MacIsaac
Construction Manager: Chris Miller
Prop M Construction Manager: John Philipps