Recommendations created by the Becoming Hispanic-Serving Institutions Book Club
Based on reading Dr. Gina Garcia's book as a collective group throughout fall 2021, the participants worked collaboratively across three meetings to create recommendations and strategies for the college. These are the seven recommendations for Palomar College to become a true Hispanic Serving Institution beyond the HSI designation:
Enhance the racial, cultural, and linguistic experiences for Latinx students. Allocate resources to Latinx enhancing actions, designate time and compensation for those who lead these efforts.
Hire people of color for staff, faculty, and administrator positions, including Latinx people who mirror our student population.
Protect and empower Latinx staff and faculty to go into leadership roles.
Institutional commitment to support ALASS, MEChA, and Puente.
Provide a physical space dedicated to Latinx students.
Provide a physical space for Undocumented/AB 540/DACA and mixed status students.
Use an HSI lens to improve institutional practices and require equity training for all employees.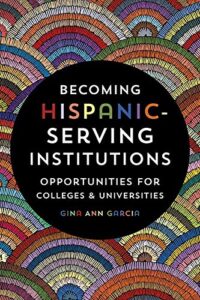 You can download a full copy of the Book Club's Recommendations, including detailed action items for each of the seven recommendations, please see Becoming HSIs Recommendations for Palomar.