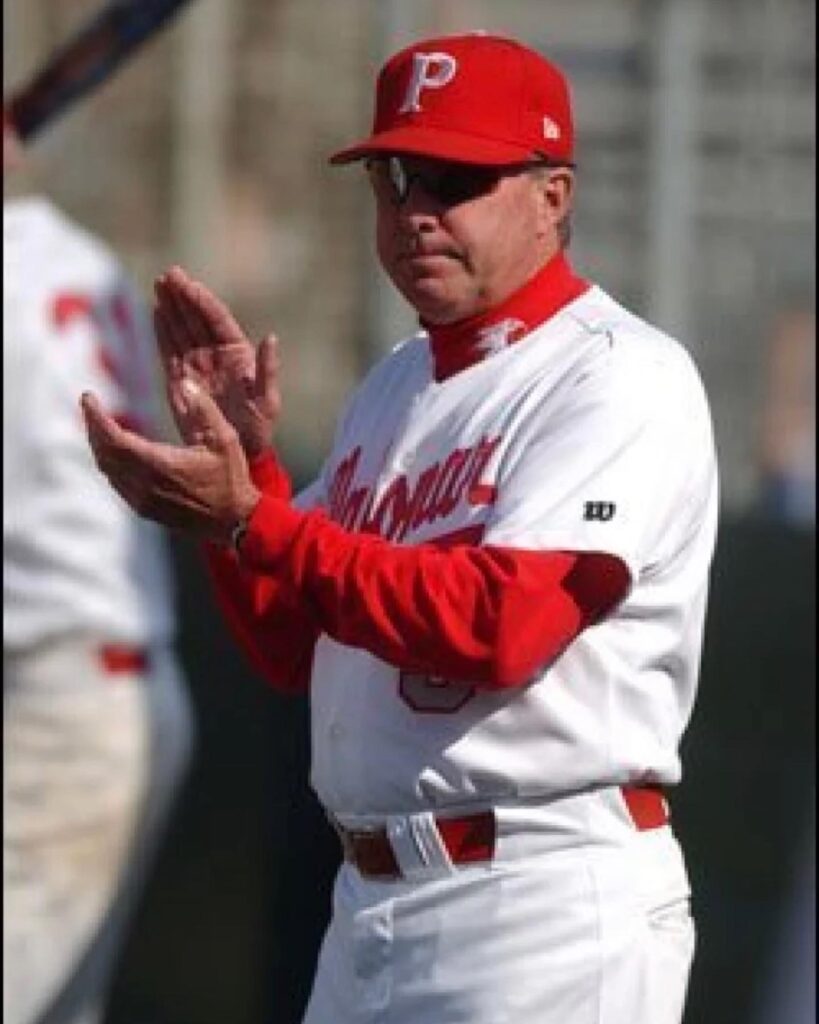 Continue Coach Bob Vetter's Legacy
Coach Vetter made a profound impact to Palomar College that goes beyond just wins and losses. The day he joined Palomar College in 1981 is when his journey began doing what he loved and did best – coaching baseball.
Early on, Coach Vetter realized that his purpose as a coach was a combination of providing strong leadership and being a positive mentor. His philosophy wasn't only teaching his players the fundamentals of the game and learning how to win, but more importantly helping them succeed in life.
As a result, his influence reached hundreds of ball players and student athletes – with an emphasis on the importance of receiving a good education, helping them to develop life skills through strong work ethic, and that if applied, one could achieve success.
When Coach Vetter suddenly passed away in January 2022, the impact of his loss was swiftly felt among his Palomar College family, San Diego and California Baseball Community, former players, students, coaches, faculty, and of course, his family and friends.
About Coach Vetter
Coach Vetter poured his heart and soul into Palomar College, where he served as Palomar's Head Baseball Coach, Assistant Baseball Coach, Department Chair of Health & Kinesiology, and Teacher.
Spent 25 years as the Head Baseball Coach at Palomar College, leading the Comets to statewide and national respect as one of the nation's top community college programs.
Served as Department Chair of Health and Kinesiology at Palomar College since 1984 until his retirement.
Compiled a 542-393 record overall.
Led Palomar to 8 conference championships, and a runner-up finish in the 2005 California Community College Baseball State Championship.
Inducted into the California Community College Baseball Coaches Association Hall of Fame in 2007.
Served as Assistant Baseball Coach for Palomar Baseball in 2016 after retirement, where he continued through his final days.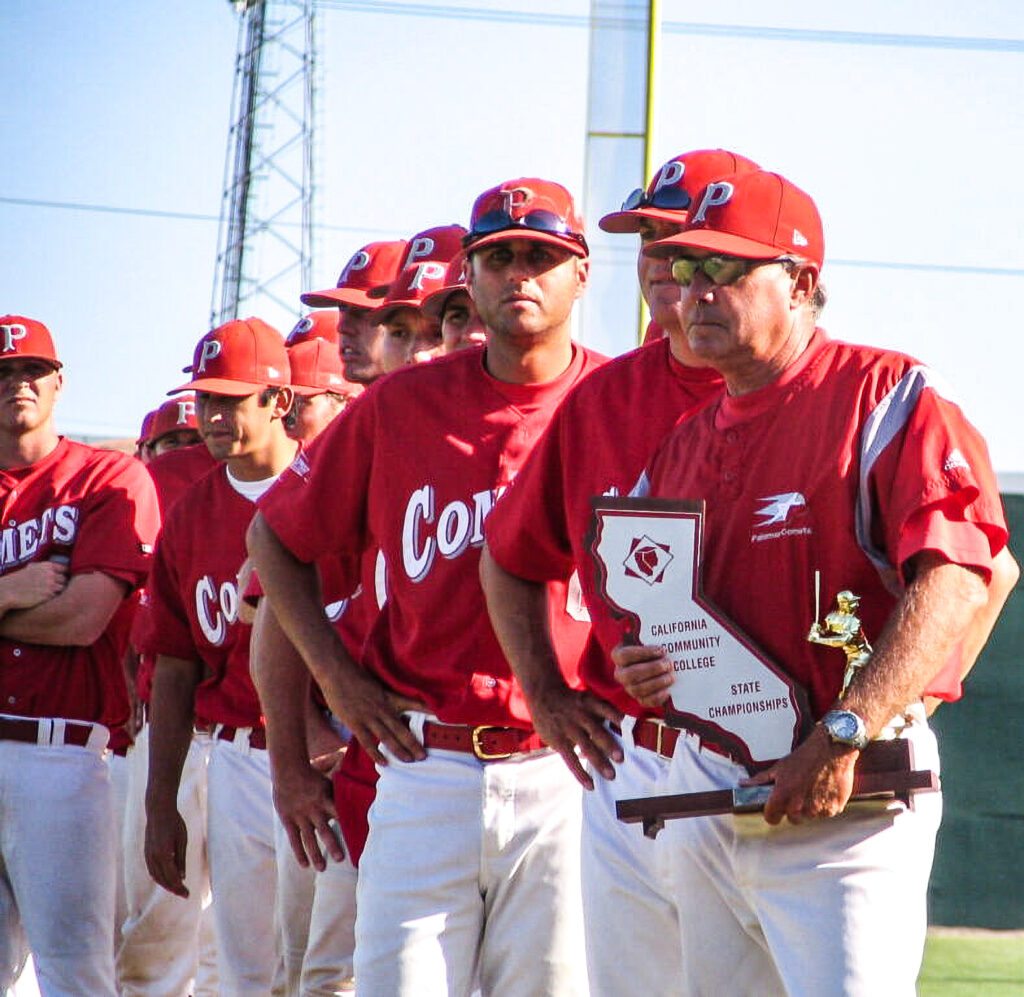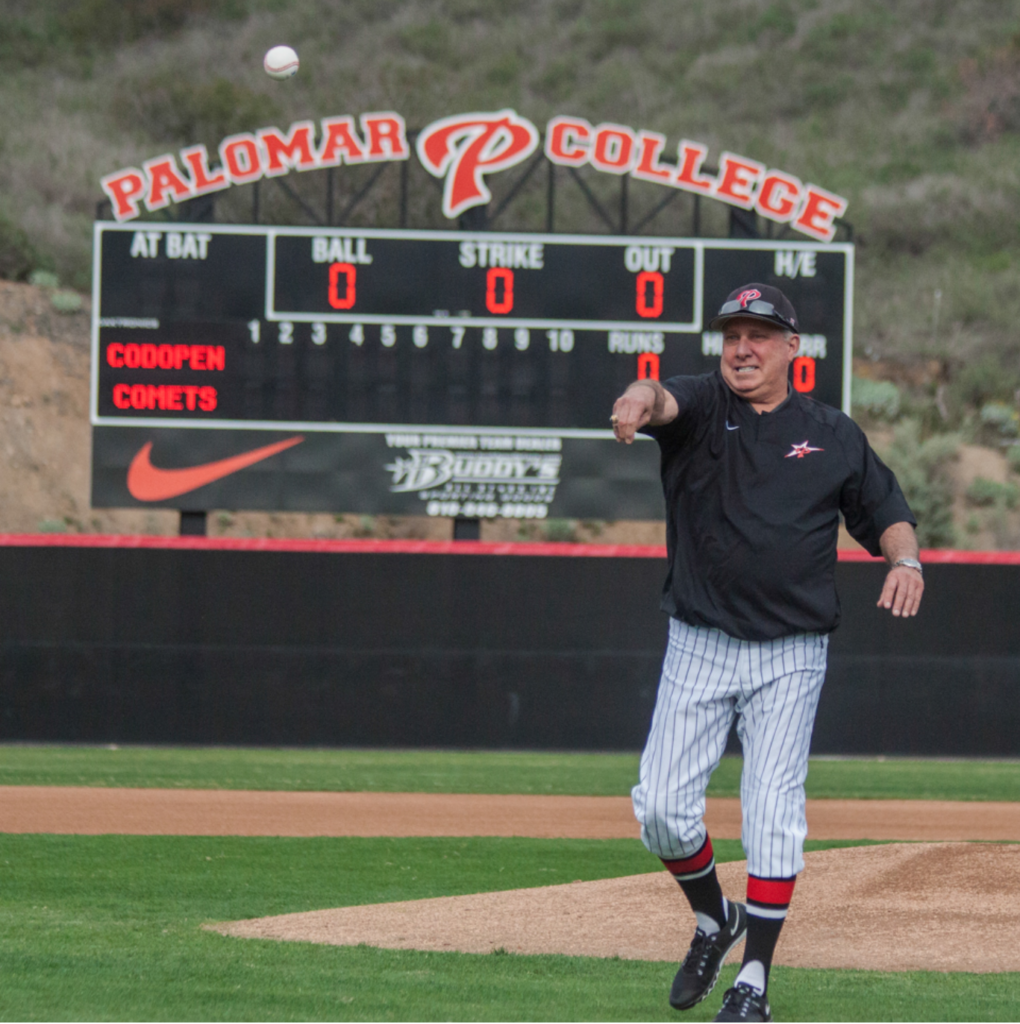 The New Stadium
Coach Vetter recognized early-on that Palomar baseball players deserved to play on a top-quality baseball field with first class facilities. Bob spent years dreaming and planning to create a baseball field & facility where generations of baseball players could proudly call their own, working diligently with the Palomar College administration for 15+ years on this initiative. His dream was realized when the new Palomar Baseball Stadium opened in 2015. Coach Vetter had the honor of throwing out the first pitch.
Naming Campaign
Our committee, comprised of coaches, alumni and family members, are working closely with the team at the Palomar College Foundation to honor Coach Vetter's past and future baseball players by raising funds to name Palomar Baseball Field "Bob Vetter Field." Funds donated to the Vetter naming campaign will go into an endowment fund that will support the baseball program into perpetuity.
COMMITTEE MEMBERS
Robby Vetter – Bob Vetter's son
Lisa Heinrich – Bob Vetter's sister
Ben Adams – Head Baseball Coach, Palomar College
Sean Richardson – Palomar Baseball Player/Alumni
Carlos Fletes – Palomar Baseball Player/Alumni
Ritch Price – Ex University of Kansas Head Baseball Coach & Friend of Bob Vetter
WANT TO DONATE WITH A CHECK?
Payable to: Palomar College Foundation
Mail to:
Palomar College Foundation
Bob Vetter Naming Campaign
1140 W Mission Road
San Marcos, CA 92069