Tarde de Familia originated by Dr. Rodolfo Jacobo, Jr. in order to create a space where Palomar College students in general and Latino students (in particular) can be exposed to Latino professionals who emanate from a disadvantaged socio-economic background. The 3 hour event is conducted entirely in Spanish and typically takes place on a Friday evening. Every semester has a theme highlighting a different industry (legal, engineering, small business, medical etc.). Audiences began with 40 people (in 2011) to well over 300 in the last year. This event has increasingly focused on working through peer support, community building, consultative planning, and standard-setting for the betterment of our students.
The presenters share their personal stories of overcoming hardship and the importance of their education in achieving their dreams. In addition to exposing our students to these success stories, the event also seeks to create ownership of the academic space in the larger community. Parents and young children are a large part of these events in addition to our students, staff and faculty.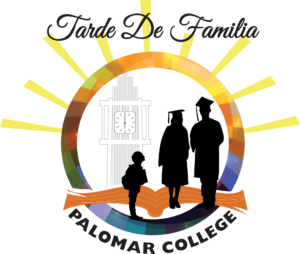 ...
Tarde de Familia comenzó cuando el Dr. Rodolfo Jacobo se propuso el objetivo de crear un espacio dentro del Colegio Palomar donde estudiantes latinos pudieran ser expuestos a profesionales latinos que provienen de una clase socio-económica poco representada. Este evento típicamente se programa en un viernes, es de tres horas de duración y es casi por completo en español. Cada semestre se elige un tema que destaca una industria diferente (sector jurídico, ingeniería, pequeñas empresas, profesión médica, etc.) Cuando primero se empezó este evento, se realizó con 40 participantes en 2011. ¡Ahora alcanzamos un público de más de 300 personas! Por medio de Tarde de Familia, nosotros en el Colegio Palomar hemos podido aumentar el apoyo mutuo, la consolidación de las comunidades, la planificación consultiva y el establecimiento de normas que afectan a nuestros estudiantes.
.
Profesionistas invitados compartirán sus historias de superación personal y la importancia de la educación en realizar sus sueños. Más allá de exponer a los estudiantes a éstas historias de éxito, el evento busca crear en ellos un anhelo hacia el espacio académico dentro de nuestra comunidad. Los estudiantes, padres e hijos menores, la administración y los profesores de Palomar forman una gran parte de este evento.