AUDITIONS FOR CRAZY FOR YOU – THE NEW GERSHWIN MUSICAL
November 4 @ 1:00 pm

-

6:00 pm

PDT

Free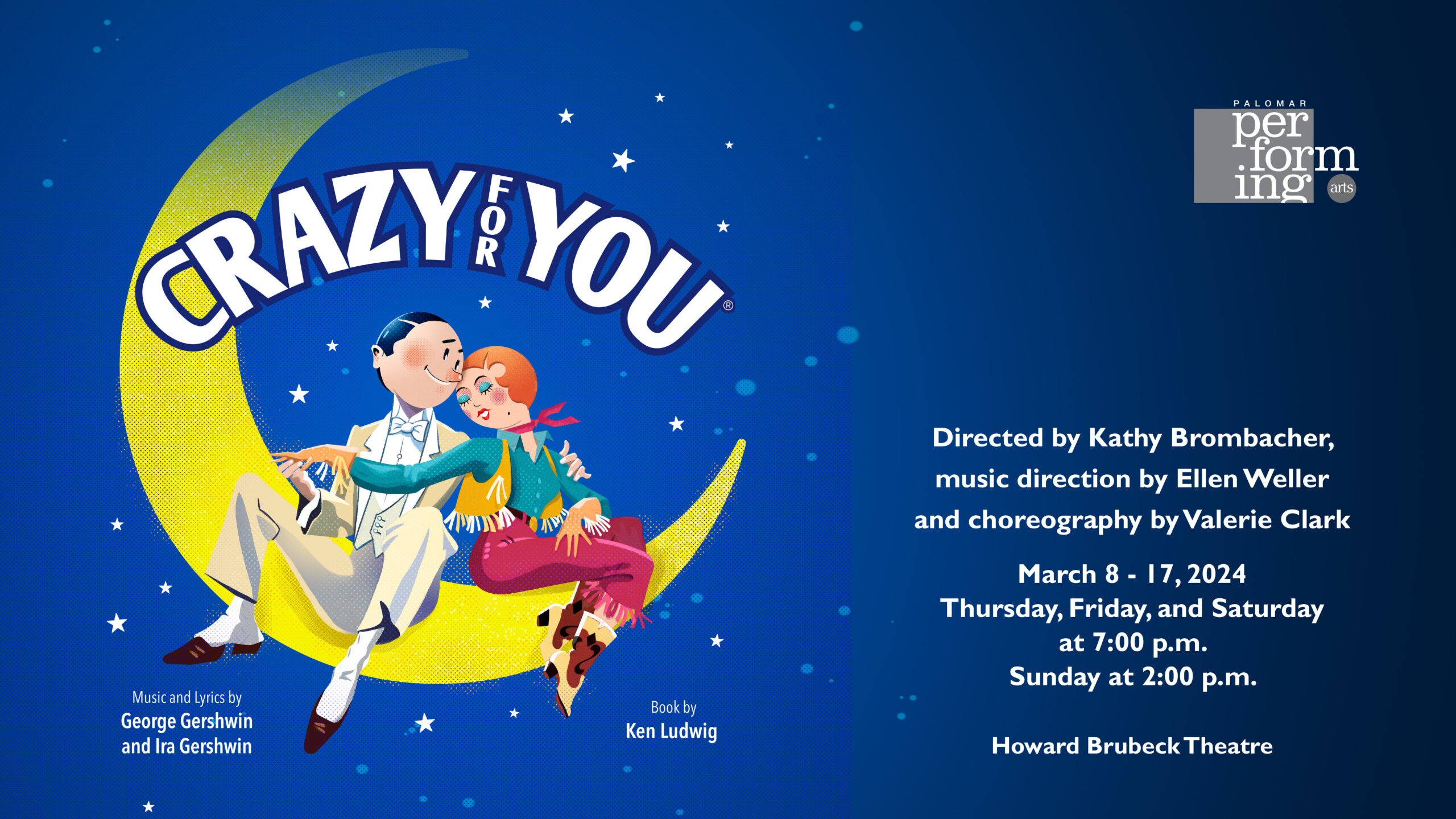 PALOMAR COLLEGE PERFORMING ARTS DEPARTMENT ANNOUNCES:
AUDITIONS FOR "CRAZY FOR YOU", THE NEW GERSHWIN MUSICAL
Music and Lyrics by George Gershwin and Ira Gershwin; Book by Ken Ludwig; Co-conception by Ken Ludwig and Mike Ockrent
PERFORMANCE DATES: MARCH 8-17 at the Howard Brubeck Theatre: Thursday, Friday, Saturday at 7pm; Sundays at 2pm
Directed by Kathy Brombacher
Musical Director Dr. Ellen Weller Choreography by Valerie Clark
Rehearsals begin Monday January 8th, 2024. First Cast Meeting December 15; 6-8pm
Seeking a company of actors, singers, dancers, stage managers and Assistant Directors
The Musical will be accompanied by a live orchestra with professional designers in scenery, costumes, lighting and sound.
Actors will play roles which age from 18 to 65 (see Character Breakdown below)
Stage Managers and Assistant Director will attend most rehearsals, learning blocking, cues and crew details. Bring one resume to your audition time and have a short interview at this time.
All roles are open and all ethnicities are encouraged to audition. Company members will register for a 2-unit theatre class at Palomar College.
********************************************************
AUDITION: Report to lobby of Howard Brubeck Theatre, Palomar College
 Saturday November 4 from 1pm-6pm(at your appointed time)
Vocal Audition (by appointment) Bring Sheet music in the correct key
 What to Bring:
* Bring 1 Headshot and 1 Resume of your theatre/dance/music experience
** Bring sheet music in your key: 1 to 2 minutes
***Bring schedule of possible work or class conflicts to compare to tentative Rehearsal schedule
6-8pm Dance Audition (by invitation) Bring shoes!
CALLBACK for PRINCIPAL ROLES/CHARACTER ROLES (BY INVITATION ONLY)
Sunday, November 5: 4pm-9pm: Sing from the Score; Read from the Script
4-5pm New Actors personally invited to Sing, Dance
5pm Principal/Character Roles: Vocal sides from the show. 6pm Reading for Character Roles: Sides provided
7pm Further Reading/Singing for Polly, Bobby, Character Roles
8:30pm Further Dance/Reading for Polly, Bobby 9:30pm End
POSSIBLE SECOND CALLBACK:
Monday November 6th from 6-9pm Brubeck Theatre NOTE:
Casting will be announced by Monday November 13th.
CHARACTER DESCRIPTIONS:
BOBBY CHILD: Leading man; strong actor, tap dancer, singer. New York banker In love with musical theatre; comic timing, suave, charming/Baritone
BELA ZANGLER: Strong character actor: Hungarian accent, baritone; Impressario who owns a New York theatre; moves well. Loves Tess.
LANK HAWKINS: Owner of the Deadrock Nevada saloon; baritone, Forceful pushy character with comic timing. Loves Polly.
EVERETT BAKER: Polly's father; owns the Gaiety Theatre in
Deadrock, Nevada. Dreams of reviving the Theatre.
POLLY BAKER: Deadrock, Nevada postmistress; tomboy leading lady; strong personality; strong vocalist, strong tap dancer; Mezzo-soprano.
IRENE ROTH: New York Society debutant with an attitude; forceful personality;
Mezzo-Soprano, no tap dance but strong movement; elegant.
EUGENE FODOR: An English tourist reviewing Lank's hotel/restaurant. Baritone
Strong British accent, moves well. Comic timing.
PATRICIA FODOR: Eugene's sister, also reviewing the hotel; British accent,
Soprano; moves well; strong comic timing.
MOTHER (Mrs. Lottie Child); Bobby's mother who controls his life; loves
Making a deal; making money; sophisticated, wealthy.
PERKINS (Mother's business assistant)/ doubles as Custus.
CHAUFFEUR (Mother's limousine driver/doubles as ensemble Cowboy
TESS: Dance Director/Showgirl of Zangler's Follies; takes charge of showgirls; Bobby's old friend; Zangler's Favorite, Strong tap, vocals. Mezzo/ Alto
PATSY: Showgirl who works for Zangler Follies; has a high voice, strong tap,
Vocal skills; Soprano or alto
COWBOY TRIO: Moose, Mingo, Sam: strong character singers who harmonize; Need strong movement skills with tap; double as stage managers.
6 Showgirls in Zangler's Follies; strong dancers in tap, lyrical. Strong singers.
 Mitzi, Elaine, Louise, Susie, Betsy, Margie
7 Cowboys: Harry (bartender), Pete, Custus, Jimmy, Billy, Wyatt, Junior
               Strong gymnastics, characters, flexible dancers. Will tap.
NOTE: some of the Cowboys may be played by females with strong tap dance skills. 
Some understudy opportunities will be available; TBA.
Related Events