The Planetarium
The Palomar College Planetarium is the second planetarium for Palomar College.  The original planetarium was built in 1965 and served the campus for 43 years.  In July of 2008 it was demolished to make way for new campus construction.  Construction for the new planetarium was completed in March 2012 and we are currently the 5th largest planetarium in California.  It opened its doors to the public on April 20th, 2012.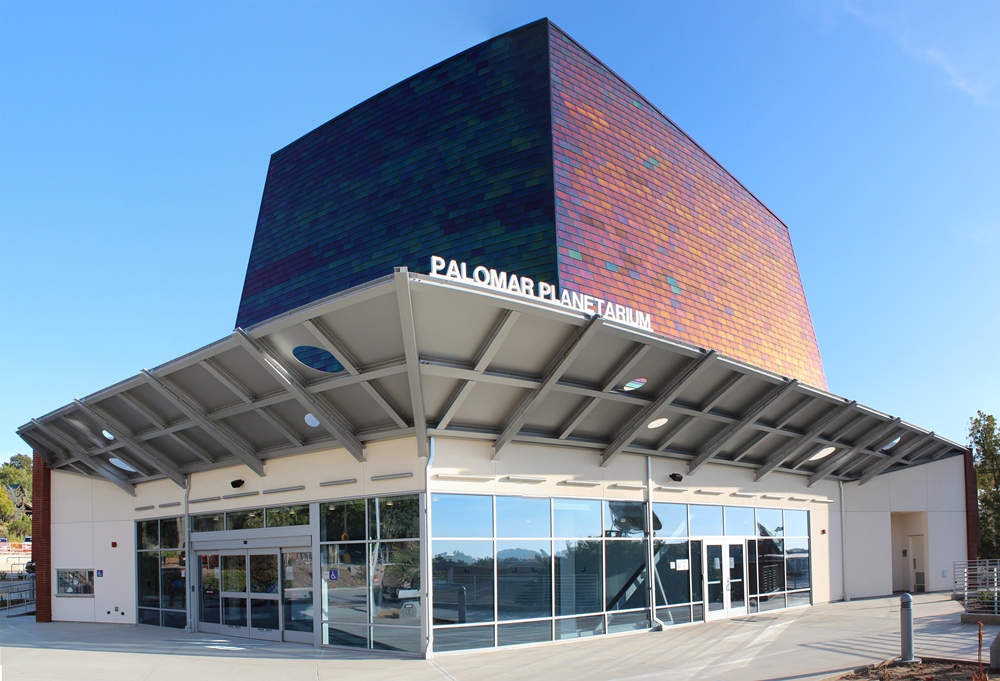 New Planetarium (March 2012)
The Theater
The planetarium theater has 138 seats that sit under a 50-foot Astrotec dome.  The dome has a 15 degree forward tilt and consists of 42 perforated aluminum panels held in place by an outer aluminum structure.  The interior of the dome is painted with a highly reflective paint.
Each seat tilts back slightly and has a folding tablet arm for student use.  The theater can accommodate up to 4 wheelchairs at any one time.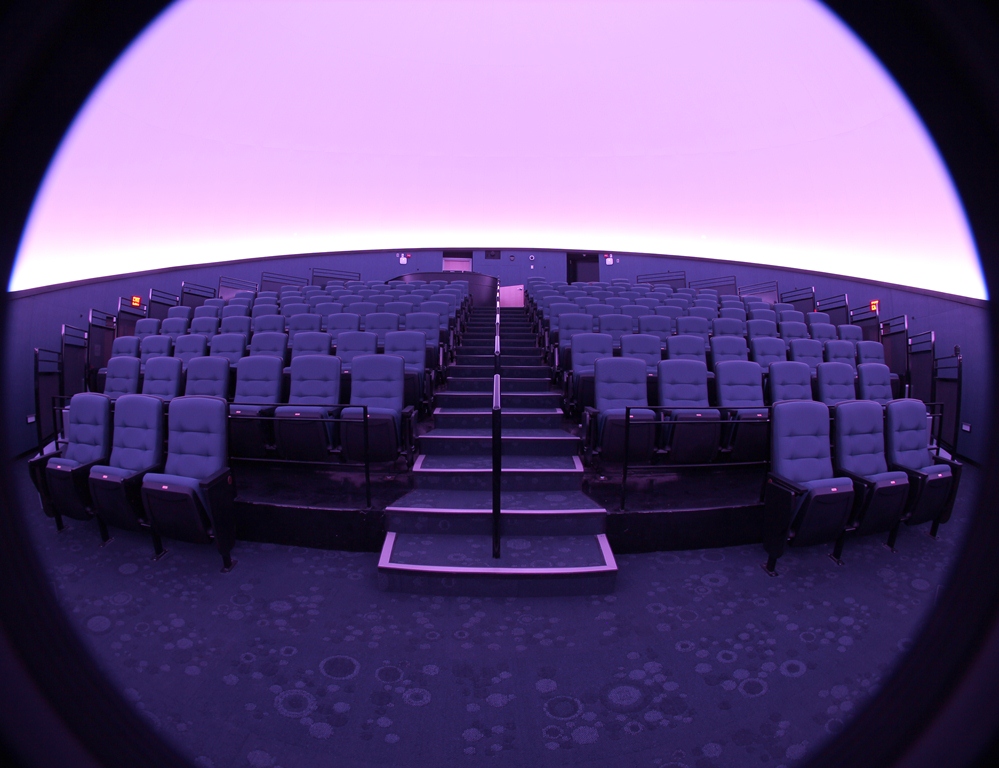 Fulldome Theater
Digistar 7 Presentation Technology
The planetarium presentations are largely driven by the Digistar 7 system manufactured by Evans & Sutherland.  To produce the fulldome images on the dome, two JVC digital projectors equipped with wide angle lenses work together to create one image.  Each projector provides 5000 lumens and produces a 4096 x 2048 display - together the image on the dome is 4096 x 4096 (4K) in size.
3 computers drive the display:
2 computers act as graphics processors - each producing 1/2 of the display
1 computer is the host
In addition to the Digistar 7 system, the planetarium is equipped with at Panasonic digital projector for presentations that do not require the D7 system.
The audio system is a 5.1 surround sound system that uses 8 speakers located outside of the dome to provide a rich ambient sound using 11,000 watts of power.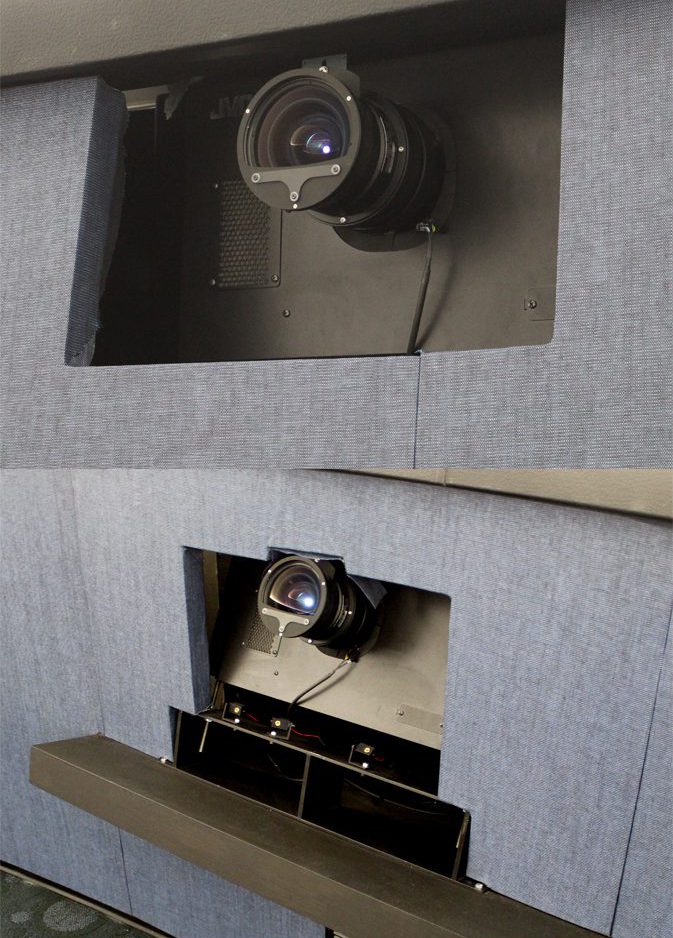 JVC Digital Projectors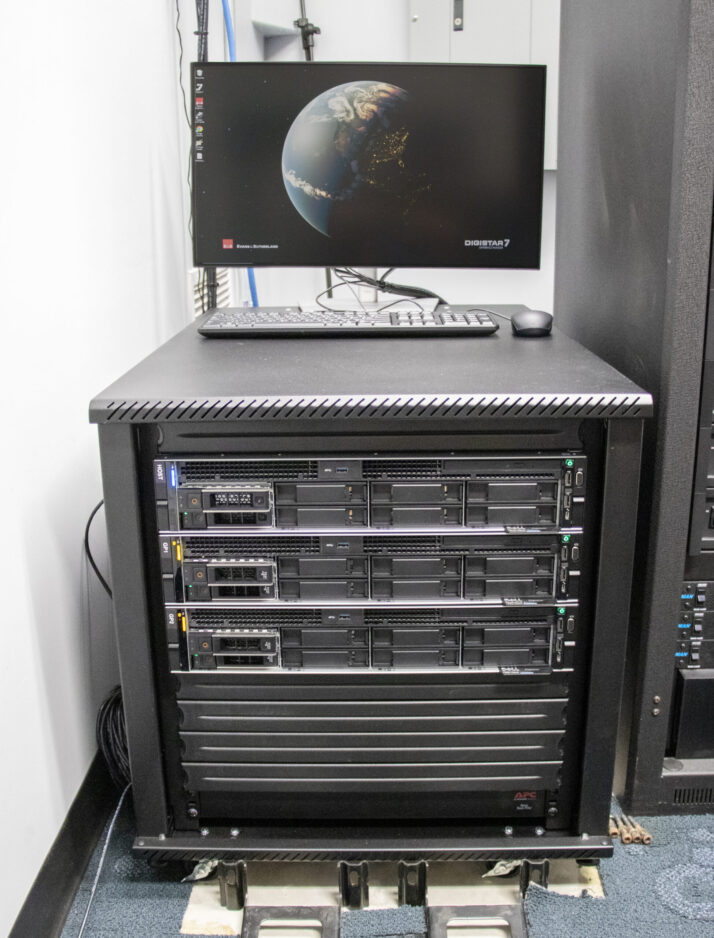 Digistar 7 System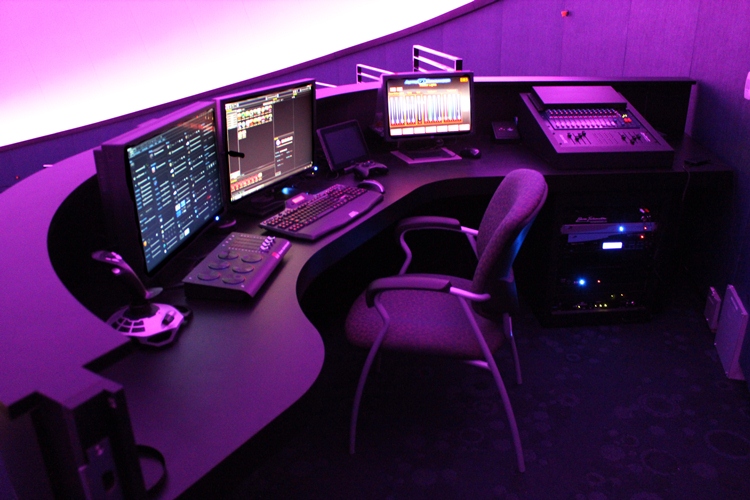 The presentation technology is controlled by a console of equipment located at the upper mezzanine level of the planetarium
The Production Studio
The planetarium has a full production studio consisting of an editing room and recording room.  A Digistar 7 producer station allows planetarium staff to produce and render shows without using the resources of the Digistar 7 system that runs in the theater.
The images below are taken from inside the theater showing the Digistar 7 display on the dome.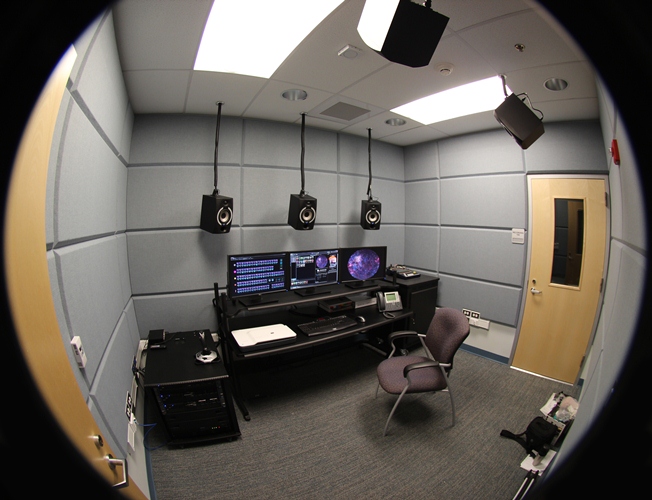 The editing room is lined with sound modifying acoustic wall panels and has a 5.1 surround sound system. Adjacent to the editing room is a recording room lined with sound modifying acoustic wall panels.