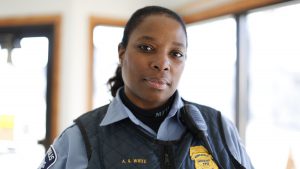 In 2014, Eric Garner, an unarmed black man, was killed on a sidewalk in Staten Island, N.Y., when a male police officer put him in a chokehold during a misdemeanor arrest.
Filmmaker Deirdre Fishel, who was working just a few blocks away, remembers asking a female police officer if what had happened to Garner could have happened on her watch. The officer said no — that a female officer would have been more likely to deescalate the situation.
"And I just started to think: Do women police differently?" Fishel says. "I really wanted to explore this question of what could women potentially bring to police departments."
Fishel's new PBS documentary Women in Blue, on the Independent Lens series, focuses on four women who worked for the Minneapolis Police Department. Alice White, one of the women profiled, joined the department in 2004. In 2018, she became one of only six Black women on the force to hold the rank of sergeant. White agrees that women tend to police differently than men.
Listen To The Interview on the Fresh Air Website