A night of frights and grizzly delights. On my visit of the legendary Haunted Hotel Disturbance here in San Diego, I can say whole heartedly it lived up to it's reputation and then some.  Upon entering Jacob my cameraman and I were given a guide to the terror who was absolutely phenomenal and I can't express how helpful Haley was to our experience. From start to finish the frights never ended, from killer clowns roaming the lines to the sounds of chainsaws revving in all directions it was a paradise for the twisted. Our terrifying journey began in the Haunted Hotel itself, a maze of terror at every turn. Each room was special and had its own unique feeling, and no run through of the maze was the same. From blood soaked halls to ghostly bars it was a haunt for ages. At each turn I was frightfully surprised and found myself screaming in delightful dread. Altogether the Haunted Hotel was unlike anything I have ever experienced but would love to see again, living up to glory.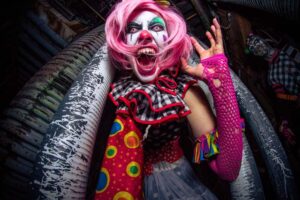 The next Haunt was the 3-D Freak Fest which was it's very own unique style of dread. Neon colors mixed with evil clowns all with the icing being the 3-D glasses made for endless scares. The maze had us turned around at all corners as we attempted to navigate, only to be met with evil clowns. The actors brought to life the childhood fears of clowns in new ways I would never have thought of  until I visited the Freak Fest. It is a haunt like no other where you truly feel fear grip you from the inside as each turn reminds you that you may be lost in these horrifying walls. For myself I truly felt the passion each character brought with them and how it seemed each wall carried over it's own life into the next and made for a truly one of a kind haunt.
Now as we journeyed outside we found an array of activities at each corner from a spinning tunnel that was enough to make me feel like I had gone through another dimension, to the joys of axe throwing. At Haunted Hotel Disturbance you can find the best axe throwing and a skilled axe throwing coach to keep the fun safe! Not to mention live music was being performed, there was enough fun for everyone at every turn.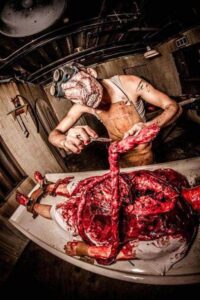 Our final haunt of the evening came at the Stars of the silver Scream. This haunt is a horror movie lover's both dream come true and worst nightmare. You are launched into the sets of your favorite movies and scenes. Full of iconic backdrops and settings, props making you feel as though you stepped from realty into the works of horror only seen on the big screen. At each turn we entered a new movie and experienced horror at levels I never though possible. Icons of horror chased us and made our worst fears of fright into scary realities. It was one of the best mazes I have ever seen. Each actor doing their part to make the horror movies come to life in an experience I will never forget from the amount of screaming I did.
Altogether Haunted Hotel Disturbance is unlike any other haunt around, it boasts a colorful legacy full of grim delight. A true once in a lifetime experience that everyone should try once. It left me with fond memories and ever scarier nightmares.