Be part of the radio revolution and help support the last bastion of independent freeform radio in San Diego by donating to KKSM.  You can help support our station by making a monetary contribution through the Palomar College Foundation website.
To make a tax-deductible donation simply follow these simple steps:
1. Go directly to the Foundation's online donation page by clicking the donate button below

2. Choose how much you would like to donate.
You can also make your donation a monthly recurring donation too!
3.  From the drop down menu select Radio Station KKSM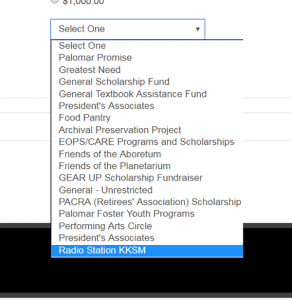 4. If you prefer to donate by check. Simply make a check payable to PALOMAR COLLEGE FOUNDATION and be sure to indicate Radio Station KKSM in the memo area. Then mail a check to:
PALOMAR COLLEGE FOUNDATION
1140 W. Mission Rd.
San Marcos, CA 92069
All donations are tax-deductible and you will be helping our broadcast students continue bringing you a variety of music and spotlighting the best in North County music and the community.
Thank you!