CRAW DADDY CRAWFORD'S
TOP 5 CONCERTS
OF OCTOBER IN SAN DIEGO
 #5: IMMOLATION @ Brick By Brick, Thursday October 10

New York death metal legends Immolation are bringing their, The Last Atonement Tour with Blood Incantation, to Brick By Brick in San Diego on October 10th. Immolation have been around for years(I even had them on my Old School Death Metal Vol.1 playlist) and they are still bringing it. Their last album, "Atonement", has some of my favorite tracks from them. However, Blood Incantation is on the newer side. Formed in 2011 in Denver, they just have one album out so far, but the second is coming soon. It drops November 22, so look out for that too. Make sure you get to the show on time to see local death metal acts Condemned and Corpsemaker. You should always support your local bands as well. I haven't seen Condemned or Corpsemaker, but I have heard good things from people who have. Tickets are $20 now or $25 the day of and doors open at 7PM and as always Brick is 21+.
#4: MOTHERSHIP @ Brick By Brick, Saturday October 12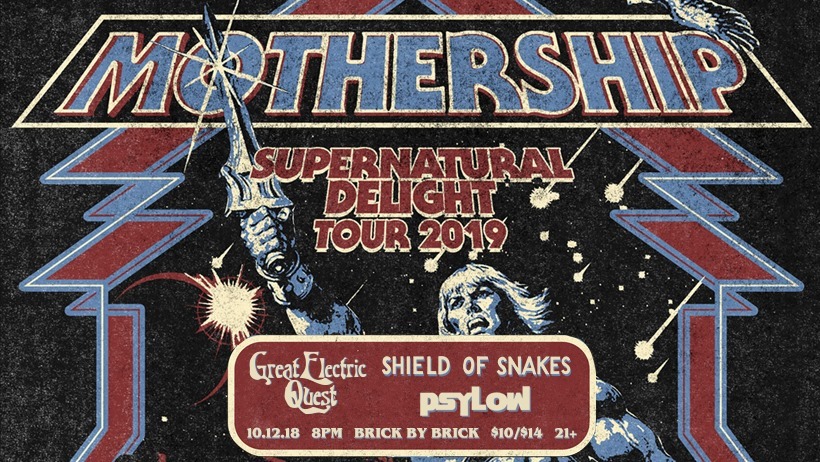 Mothership is coming back to Brick By Brick and this time they are headlining. Now I've seen Mothership twice now and they are always super fun and a killer time. The Last time was when they toured with Weedeater, Crowbar, and C.O.C., and so most people there came for one of those bands and not too many really knew Mothership. Once Mothership started playing though you can see that a lot of people became fans right there. They've been touring with everyone lately too. They even toured with thrash legends Death Angel and Overkill too, so you know they are the real deal. They aren't even a thrash band, so this should be a killer show. Joining them on stage will be my good friends Great Electric Quest, who also always put on some of the best shows in SD, Shield of Snakes, and Psylow. Shield of Snakes and Psylow I haven't seen, but I have seen some live videos of Psylow on their instagram and they sound super heavy. I like it. Tickets are $10 now  or $14 the day of and doors open at 8PM.
#3: UFO @ House Of Blues San Diego, Monday 14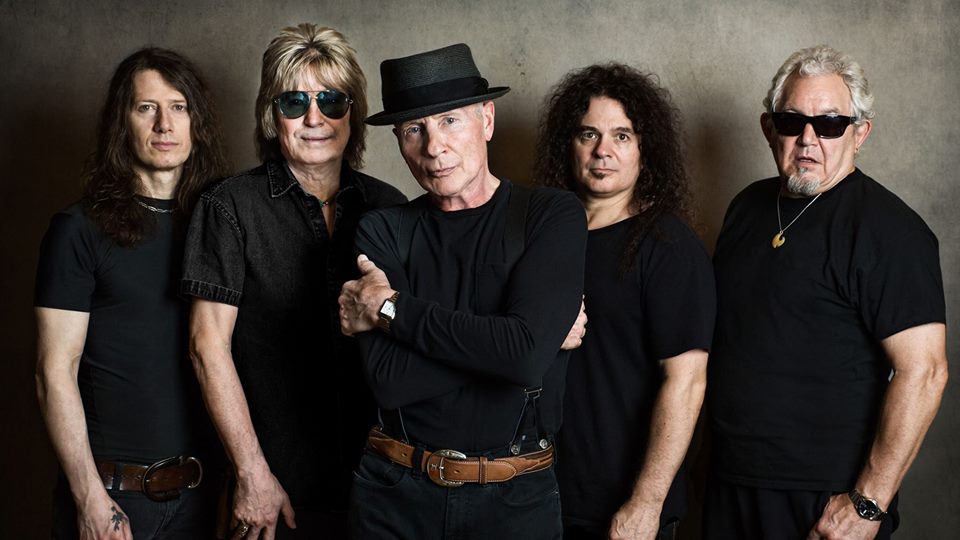 British legends UFO hit San Diego on Monday the 14th, and it maybe their last time. If you've never heard of them, lets just say Iron Maiden uses their song "Doctor Doctor" as their entrance song. They are and always will be classic. Joining them at House Of Blues is another classic metal band in Armored Saint. Just one of these bands is enough to be in the top 5, yet both of them. Tickets for this concert are only $25 and starts at 7PM.
#2: HAVOK @ Brick By Brick, Saturday October 19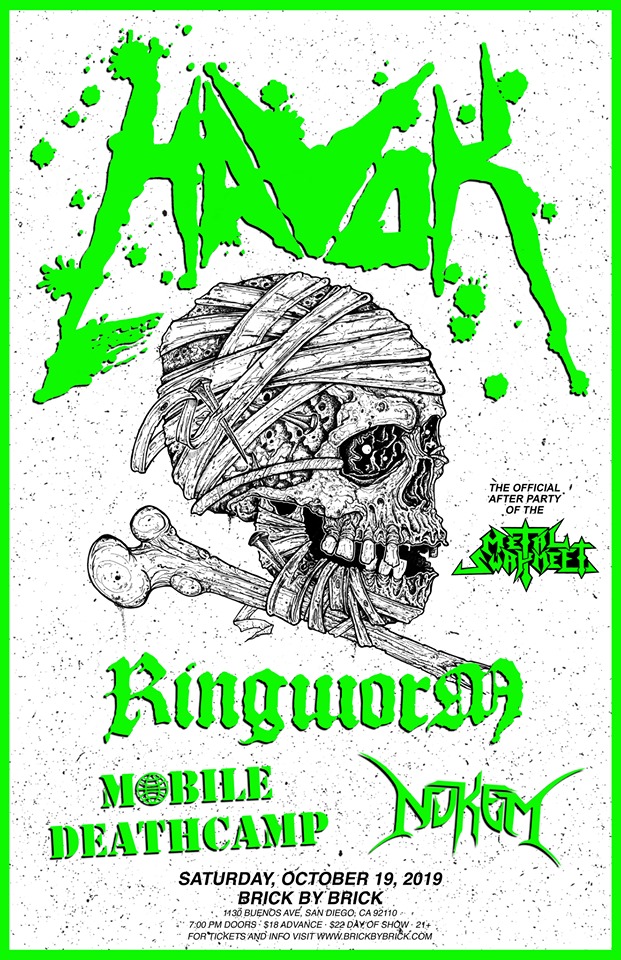 Definitely one of the best thrash bands to come out since the turn of the century, Havok is hitting the stage at Brick in San Diego on October 19. I've seen them a few times now and they always bring a ton of energy and thrashing good time. They are joined by some other killer bands in Ringworm, Mobile Deathcamp, and Nukem. Nukem even a song that Reece Scruggs of Havok is featured on so maybe we will get the chance to see that live. This show is also the after party for the San Diego Metal Swap Meet, so if you go there first too you'll get to see Night Demon as well. With or without seeing Night Demon though, this show should still be towards the top of your list. Tickets are only $18 now and $22 at the door and doors open at 8PM.
#1: OBITUARY @ Brick By Brick, Thursday October 3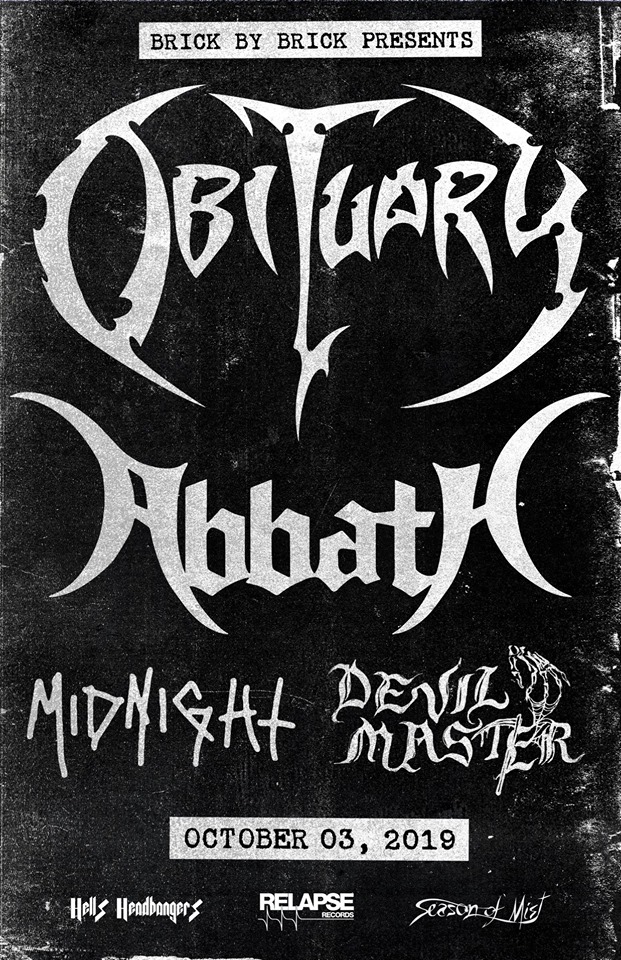 HOLY SHIT!!! This one is going to be insane. I originally thought Obituary and Abbath would never play at a smaller venue like Brick, but I love it. Small venues are just way more intimate and personal, so when you are lucky enough to get tickets to see a band like them at one it's always special. Sadly this is sold out, but hopefully like me you got tickets before they did. I've seen Obituary once before when they opened for Kreator and beforehand I liked them, but it wasn't a band I listened to too much. I was always more into thrash then death. Since then, I've been listening to a ton more stuff and absolutely love Obituary. The show doesn't even stop with them though, the whole lineup rips. Abbath is playing as well which he is most famous for being the frontman of Immortal and the face of many black metal memes. Then you got one of my absolute favorite and my favorite out of the four actually in Midnight and also the super awesome newer death metal band, Devil Master, who I've been listening to more and more. This is one of the best concerts in San Diego of 2019 hopefully I'll see you there. I know it's sold out but tickets were $32 and the doors open at 6PM.