Martin Leyva was recently awarded the inaugural Paulo Freire Liberation Through Education Award for his work at Palomar College and beyond.
SAN MARCOS — It was a long road that brought Martin Leyva to Palomar College, where he started the Transitions program for formerly incarcerated students in 2016.
The journey included a childhood in one of Santa Barbara's roughest neighborhoods, including his first arrest at age 13, and some 20 years in and out of jail and prison.
In other words, Leyva lived the first half of a story that, for many men and women across the U.S., doesn't have a happy ending.
"Unfortunately, we see a lot of people go to jail or prison, come home and stay isolated—living with the idea that this is all they have, this gang, this neighborhood," Leyva said. "So Transitions provides that self-worth—let's build you up, let's teach you communication and help you get out there in the world and get on your feet."
What Leyva now considers a pivotal moment in his life came in 2007, when he got out of prison for the last time and went to Santa Barbara City College with no college preparation and no plan.
"As a formerly incarcerated individual, I was terrified to be there—I didn't feel like I belonged, I didn't feel like I fit in, I didn't even understand 90 percent of what they were saying," he recalled. "But I jumped in feet first. Because I didn't feel like I fit in, every time I went to the parole office I would invite another person to come with me."
Soon there was a large enough group of formerly incarcerated students to justify organizing a support group. The "Transitions" idea was new—so novel, in fact, that it hadn't been done yet. Leyva said he has recently learned, through his doctoral research, that the Transitions program in Santa Barbara was the first of its kind in the nation.
It wasn't a hit with everybody, he recalls: "Back in 2008, we were still using words like 'convict.'"
But there was one ally: the Director of Extended Opportunity Programs and Services, or EOPS, who helped Leyva and his first group of peers secure a room for their meetings on campus. Next came a small amount of funding.
But that was all they needed.
In 2016, having moved to North County to pursue his master's degree at Cal State San Marcos (CSUSM), Leyva launched Palomar's Transitions program, which has grown and matured and will move into a permanent building on the San Marcos campus next year.
Today, the Transitions model is spreading across the state of California in the form of the Rising Scholars Network, which provides "degree-granting programs in correctional facilities and on-campus support for students who have experienced the criminal justice system."
Palomar's thriving Transitions program—soon to be renamed under the Rising Scholars banner—recently graduated its fifth summer cohort of 21 formerly incarcerated students.
During the ceremony, Leyva—who teaches the summer class—was honored with the inaugural Paulo Freire Liberation Through Education Award. In presenting the award, numerous students, administrators, faculty and others spoke of Leyva's personal dedication.
"His compassionate heart is evident in all he does," said Dr. Star Rivera-Lacey, Superintendent/President of Palomar College, when she presented the award to Leyva. "Martin is motivated by love, and he reminds us that a chapter in our lives doesn't define the entire story—that change is possible, that we are not victims of our past, and that we are not trapped by the circumstances of our birth."
"The reality is that we, as an institution, as a program, and as individuals, are better because of Martin Leyva's presence in our lives," she added.
Andreas Favela, the Interim Associate Vice President of Student Academic Support Services at Cal State San Marcos, also spoke warmly of Leyva's work during the ceremony at Palomar last month.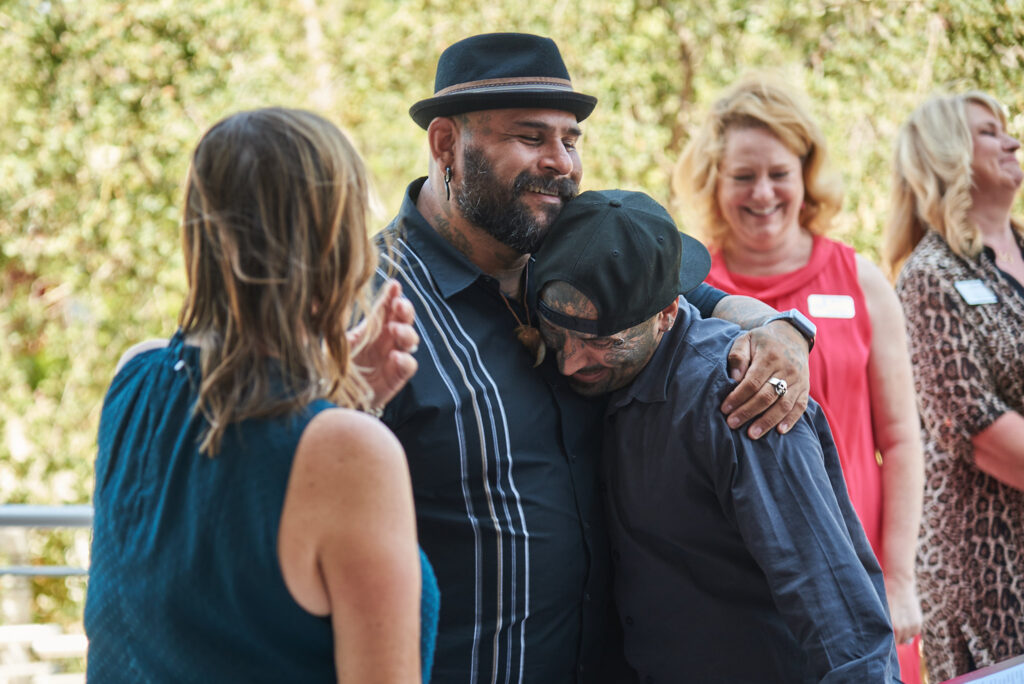 "We're just trying to keep up with him—with his energy, his dedication, his passion," said Favela. "Martin has the biggest heart that I've ever known."
Fifteen years after Leyva's first semester as a formerly incarcerated student, there is plentiful evidence of the power of education to change the lives of system-impacted individuals.
"The data shows that education is the number one reducer of recidivism—if you get an education, your likelihood of going back to jail or prison drops substantially," he said, reflecting on his most recent class of Transitions scholars at Palomar. "On the first day of class, I asked the students if they thought they could be successful. Most of them were hesitant, saying things like, 'I don't know, I'm giving this a shot, we'll see.' But last Thursday, in my last lecture, I asked the same question, and I would say 90 percent of them told me, 'I can and I will.'"
The success stories cover the gamut, from dozens of quietly successful men and women who have left incarceration behind to those who have taken their education "all the way."
"We see people exceed their wildest dreams," said Leyva. "I mean, I'm a year away from getting my doctorate in education, and when I look back to when I got out of prison in 2007, knowing I had a close to 80 percent chance of going back in—it's beautiful to witness the success."
Today, Leyva is the Program Coordinator of Project Rebound at Cal State San Marcos (CSUSM) and an Adjunct Professor at Palomar, CSUSM and MiraCosta College. He specializes in Sociology, Criminology and Justice Studies, and is due to finish his doctorate in Educational Leadership next year.
His dissertation: "The power of education as a means of re-entry."
Sitting in the Brubeck Theatre, listening to story after story of students who found new purpose through education, it's easy to get a sense of all that Leyva and his colleagues have accomplished.
But he insists they're still in the "early days." There's a lot of work yet to do—and a lot of people to help, he says.
"This is my life's work," Leyva said. "When I think about how 95 percent of the people who are currently incarcerated are coming home someday—if they can come home knowing there's a community college or some type of educational resource that will help them re-enter society? That's a beautiful thing."