Three of the original Student Ambassadors who advised Palomar's Pathways committee are pursuing advanced degrees in various fields. They reflect on what it was like to travel the path through community college.
SAN MARCOS — Three students who participated in developing Palomar Pathways during their time at the college have gone on to universities in pursuit of higher degrees—examples of the very success they helped to envision for their peers.
Crystal Figueroa, Kory Nokes and Aimee Perez were three of the original Student Ambassadors, representing thousands of current and future Palomar College students who will benefit from a clarified, simplified experience, from enrollment through completion.
During a recent interview, the three alumni—who became friends while serving on the Guided Pathways committee—discussed their experiences while they studied at Palomar and helped shape the college's instructional approach.
"We included student ambassadors (in the planning process) because it's so important, as we transform our college, to get student input—to have them involved in these big changes," said Wendy Nelson, a Palomar College Professor and Guided Pathways Team Lead. "These students attended our meetings, gave us feedback, did projects on their own, did outreach, created a logo for Guided Pathways at Palomar College, and more."
They were recruited to the committee personally by Interim Superintendent/President Dr. Jack Kahn, then serving as Assistant Superintendent/Vice President of Instruction.
"We are so proud of our Student Ambassadors and the work we have done together to improve the student experience at Palomar College," said Dr. Kahn. "These three individuals are exemplary in their commitment to Palomar College, but more importantly, in the pursuit of their goals through higher education. We wish them all the best, and thank them for their good work."
Crystal Figueroa
Figueroa, who lives in San Marcos, came to Palomar from Mission Hills High School. She said she discovered her love of computer science at Palomar and is now studying at UC Merced, where she will earn her Computer Science & Engineering degree in December.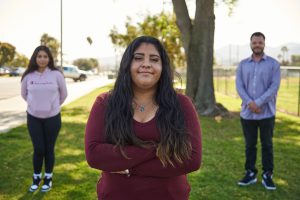 "Once I was at Palomar, it was definitely easy to find what I wanted to do," said Figueroa. "And now Guided Pathways lets you start your general education, even if you don't know what you want to do—to buy a little time."
She recalled serving on the Guided Pathways committee with Palomar College faculty and administration, with major changes and big questions at stake.
"I do think at the end they definitely took what we said to heart and listened," she said, adding that she looks back with pride on the committee's work, even though the collaborative process was at times stressful.
"I strongly believe in Guided Pathways, and I believe it's going to help students figure out where they want to go—even if it's just an associate degree," said Figueroa.
Kory Nokes
Nokes came to Palomar College as a member of Transitions, the "Corrections to College" program, and soon discovered his love of mathematics. He now works in Palomar's Counseling Department while studying at Cal State San Marcos, with plans to pursue his PhD.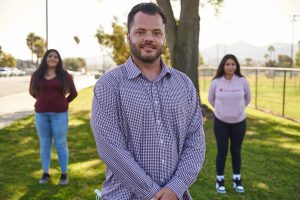 "I had a lot of people in my corner, who really helped me get where I wanted to go," said Nokes, who used a variety of pathway-language to describe his experience at Palomar. "My favorite part of Guided Pathways was the student meetings we had. We really respected each other, and we were really able to talk about things as students—what we needed."
As representatives of the student body, he added, "We'd always bring it back to the students and what would be best for them. That's critical in this process, and I think we paved the way for reciprocal communication. They saw we worked hard, we were serious, and we really did care about our fellow students."
Nokes' path in higher education has been different than most, and he said he has learned that "it's really important for students to get involved—not just sit back idly and take your classes."
"I think it's really cool that all three of us are pushing," he said, referring to Figueroa and Perez. "Without Palomar, I wouldn't have known this was the path. Working at Palomar showed me that I really enjoyed getting involved in education—I really like the process, I really like being a part of things that are going on."
Aimee Perez
Originally from Vista, Perez moved to Riverside County as a teenager to attend John F. Kennedy Middle College High School. She returned to North County to attend Palomar—and in the process discovered her path to the future.
"I thought I was going to be a nurse, but my first semester at Palomar, I took a psychology class and I was like, 'This is what I want to do.' So I'm a psychology major now," recalled Perez, who plans to finish her bachelor's at UC San Diego before doing clinical psychology work and then pursuing her doctorate.
She recalled being recruited by Dr. Kahn because she wasn't afraid to speak her mind "and that's why he wanted me for the job. He wanted us to be totally honest."
Of five original student ambassadors, one was an Italian exchange student, and majors ranged from math to film to computers to psychology: "All of us are different majors, we come from different backgrounds with different things we wanted to get out of Palomar," said Perez, "so I think it worked really well that we could say, 'We come from different backgrounds, but we all agree on this.'
"A lot of times, students don't know where to go to talk about their experience," she added. "But even in our classes, we had flyers, we had stickers—everything to get the word out: 'The administration is trying to hear your voice.'"
Reflecting on her own journey, Perez offered this advice to those who are still on their way through Palomar College: "Everyone graduates in their own time, so don't compare yourself to another student. Take your time to learn what you like."
---
"We need to make it easier for our students to complete," said Wendy Nelson. "If we do this right, we could really make profound changes at our community colleges. It's really, really thinking about students every step of the way."
Nelson said Guided Pathways is not a program that students have to opt into, but a "reimagining" of many aspects of the community college experience.
The most visible result, called the Program Mapper, which helps students envision their higher education and reach their goals faster.
Guided Pathways is part of a statewide initiative intended to establish "integrated, institution-wide approach to student success by creating structured educational experiences that support each student from point of entry to attainment of high-quality postsecondary credentials and careers." It includes four "pillars" or elements to help ensure student success:
Clarify the Path
Enter the Path
Stay on the Path
Ensure Learning
According to caguidedpathways.org, "Guided Pathways provide students with clear, educationally coherent program maps that include specific course sequences, progress milestones, and program learning outcomes."