During his virtual presentation, former Palomar College STEM student Yuri Rodea provides glimpses of a career in advanced engineering and urges students to "stick with it."
SAN MARCOS — When the Mars 2020 Rover lands on the Red Planet next year, it will begin transmitting images captured with equipment that Yuri Rodea helped to build.
A Test & Integration Engineer at Malin Space Science Systems in San Diego, Rodea led a virtual presentation hosted by Palomar's "Rising STEM Scholars Program" on Thursday, Oct. 22, discussing his own path "from Palomar to CSU to Space."
It wasn't Rodea's first return visit to Palomar to inspire students to keep pursuing their dreams of a career in STEM (Science, Technology, Engineering & Mathematics). Indeed, he shared, "Everyone I know from Palomar who stuck with it is now an engineer."
"It all really started when I was at Palomar," he said during his Zoom presentation in October. "While I was there, I was a STEM tutor, I was a lab assistant for most classes I took—the best way to learn something is to have to explain it to someone else."
Originally from Mexico City, Rodea said being a bilingual engineer has given him a "leg up" in the industry. He encouraged students to get a solid base in math and chemistry—and to go beyond the basic academic requirements, if they're serious about pursuing a career in engineering or a related field.
During his hour long presentation, Rodea explained "what engineers actually do," sharing glimpses of his typical work day, and talked about projects he has contributed to as a technician and professional engineer. He finished by providing a comprehensive list of "steps to success in STEM."
The optical system Rodea helped produce for NASA is designated Mastcam-Z, and consists of a pair of cameras, each roughly the size and shape of a tennis ball canister.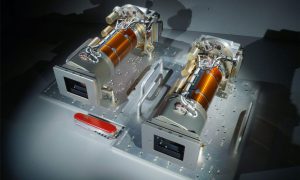 Considered the eyes of the rover, Mastcam-Z is designed to facilitate experiments on the surface of Mars "by looking at the whole landscape," according to NASA's detailed project website. "It identifies rocks and 'soil' (regolith) that deserve a closer look by the rover's other instruments. It also spots important rocks for Perseverance to sample by drilling rock core samples and caching (storing) them on the surface of Mars."