Three men from very different backgrounds—a horticulturalist, a professor and a vegetable farmer—helped get the arboretum off the ground. They returned to campus recently for a private tour of the trails that were recently built through woods they planted.
SAN MARCOS — Decades ago, Bob Kelly was preparing to plant a tree on a hillside above Comet Circle when he dislodged a boulder and watched helplessly as it rolled down, snapping off sprinklers on its way toward the parked cars below.
"It was quite steep, and I was saying, 'Oh no, no'—it came down to the edge of this parking lot and stopped," Kelly recalled. "But the idea is that you start something rolling, and you never know where it'll go."
A gardening crew chief at the time, Kelly was working in what would become the Edwin & Frances Hunter Arboretum, a 10-acre nature preserve filled with rare and endangered trees and shrubs.
The arboretum recently reopened after a six-month renovation that included the establishment of an ADA-compliant trail system, upgraded irrigation and a new groundwater well.
The day before the preserve was dedicated with a public ceremony, Kelly revisited the slope where he and other employees, students and volunteers spent countless hours since the 1970s planting and caring for a growing collection in one of North County's natural treasures.
He was accompanied by Richard Borevitz, another key figure in the establishment of an arboretum here, and Wayne Armstrong, who taught biology for nearly 40 years at Palomar and was also pulled into the orbit of what became a serious labor of love.
The trio reminisced as they encountered trees like old friends along the path, pointing with walking sticks, rattling off Latin names and admiring the new trails that make the arboretum accessible to a broader segment of the community.
"Hey Bob, remember when you planted this tree?" Borevitz called out.
"I was here once when a lady was out here collecting branches for her Christmas decorations," Armstrong pitched in.
They all spoke fondly of a student, Brian Hawthorne, who was a veteran and a president of the Associated Student Government at Palomar in the early 1970s. It was Hawthorne who urged the college to establish an arboretum, and Kelly was the one tasked with implementing the vision.
"It's amazing to see it today, to see all the trails. It's truly wonderful," said Armstrong, adding that he's glad the preserve is protected now. "Years back, I always worried about them making a parking lot or something here, and I used to write letters all the time."
The arboretum is named for North County business leaders Edwin and Frances Hunter, long-time supporters of the college. In 2015, the Hunter family and Hunter Industries established a sizable endowment to ensure the maintenance of the arboretum with a $500,000 donation to the Palomar College Foundation.
The recent capital improvements were funded by Prop. M, the $694 million bond measure approved by voters in 2006.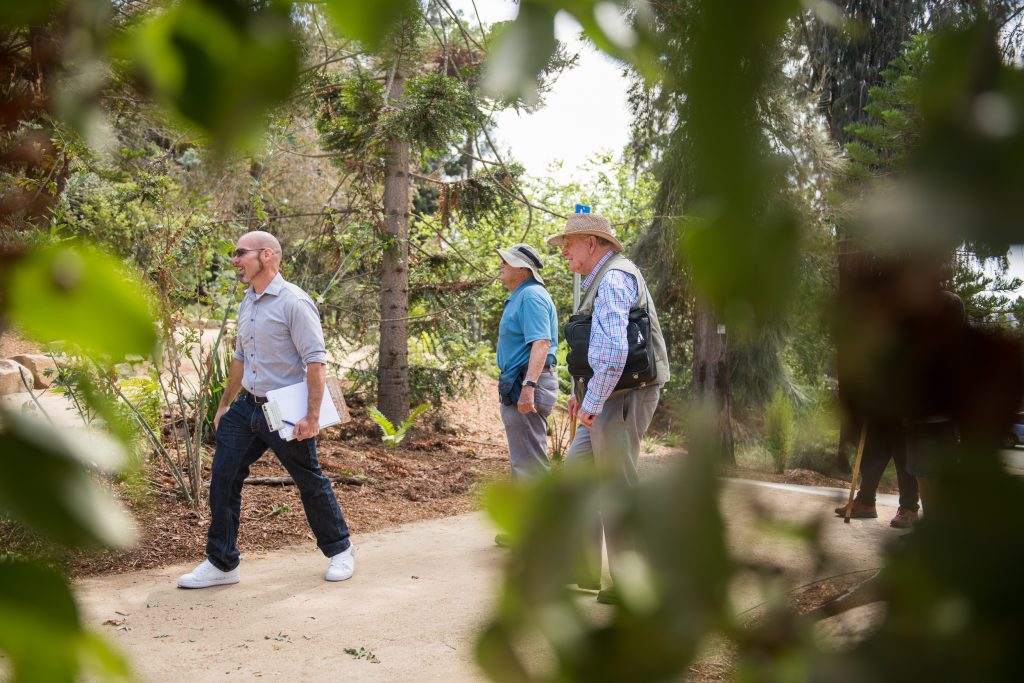 Borevitz, who attended Palomar nearly 60 years ago, came back to campus to help establish the Friends of the Palomar College Arboretum in 1995, after which he served as president of the Friends from 1997-2002.
"It's about time," he said, looking around the palm garden. "It took a long time to get here, and I think they did a really nice job."
Borevitz is a farmer with a long history in the agricultural community of North County. He said he knew vegetables, but not trees. "Bob first got me interested in trees. It was nice for me to broaden my horizons."
During the tour with Armstrong and Kelly, Borevitz inspected the freshened-up arboretum with a plantsman's eye. On the whole, he was impressed.
"There was always potential here, so it's really nice to see that potential fulfilled," he said.
Kelly, for his part, said he looks forward to seeing where the next generation of plant-lovers goes with the project. The current president of the Friends, Tony Rangel, is Palomar's Grounds Services Supervisor, and he knows the arboretum better than anyone save, perhaps, the three men whom he led on this tour.
"It's the beginning of a new phase," said Kelly. "Other people are going to come along who are inspired by what Tony's done, and what I did long ago. I hope they will carry on with bigger and better ideas. This is just getting started."
Then, recalling that afternoon on the hillside, shovel in hand, he said with a grin, "That rock really went someplace."
For more information about the arboretum, including a list significant species found there, please visit www2.palomar.edu/pages/arboretum. Watch the PCTV clip of the Sept. 26 dedication ceremony below.
[vimeo 363689087 w=640 h=360]
Hunter Arboretum Dedication Ceremony from Palomar TV on Vimeo.