New Students

Prospective Students
Simple Enrollment
Step 1: Apply and Activate
Step 2: Apply for Financial Aid
Step 3: Launch Your Success
Step 4: Review Your Placement and Develop an Ed Plan
Step 5: Register and Pay for Classes
General Resources

Current Students

Student Resources
Campus Life
Health and Safety
Student Support Programs

Suicide Prevention Day Event
September 10, 2019 @ 4:00 am - 7:00 am PDT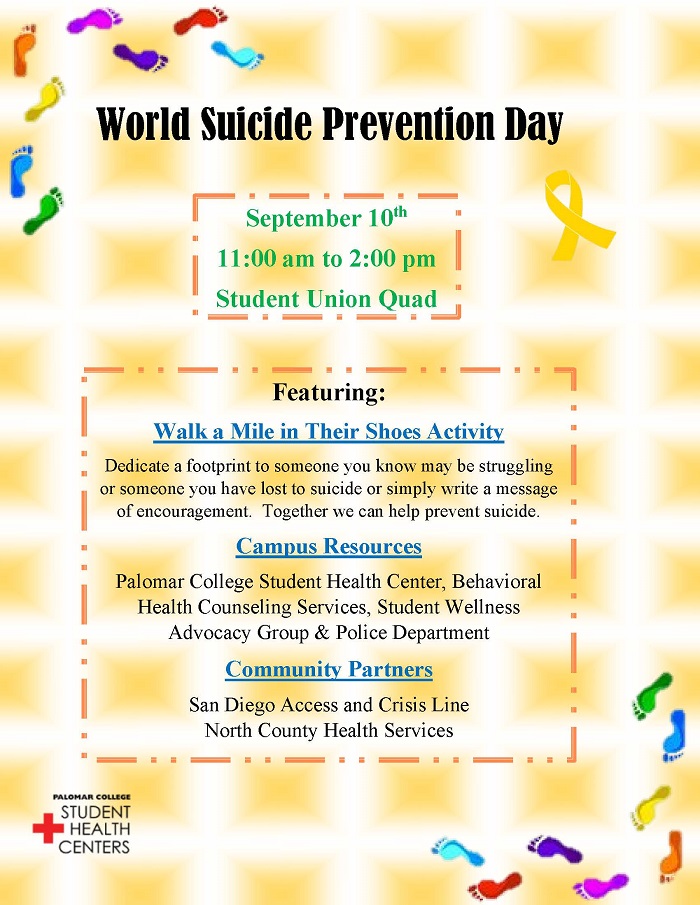 Please join Palomar College Student Wellness Advocacy Group, Student Health Center, Behavioral Health Counseling Services and Police Department in raising awareness about suicide on World Suicide Prevention Day – Tuesday, Sept. 10th from 11:00am to 2:00pm.
Participate in the "Walk A Mile In Their Shoes" activity in the SU-Quad and visit with on and off campus resources.
Together we can help prevent suicide!
What are you looking for?
A - Z Index