New Students

Prospective Students
Simple Enrollment
Step 1: Apply and Activate
Step 2: Apply for Financial Aid
Step 3: Launch Your Success
Step 4: Review Your Placement and Develop an Ed Plan
Step 5: Register and Pay for Classes
General Resources

Current Students

Student Resources
Campus Life
Health and Safety
Student Support Programs

Movies for Mental Health
May 10, 2018 @ 8:00 am - 10:00 am PDT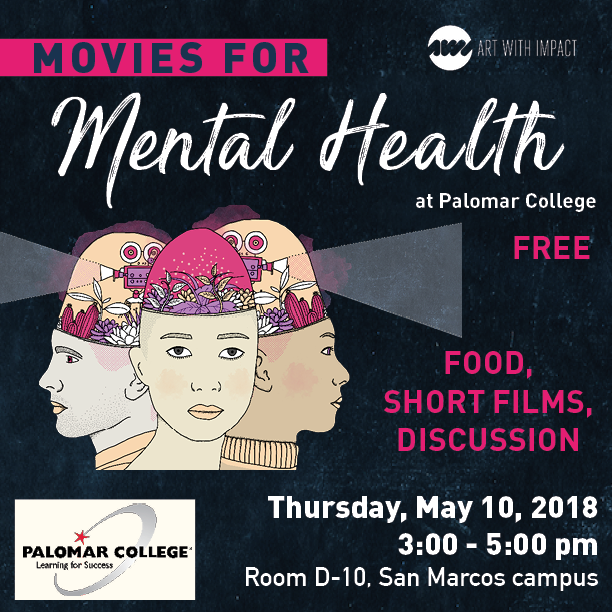 May is Mental Health Matters Month
Palomar College Student Health Center & Active Minds Club are hosting a FREE event called "Movies for Mental Health," an interactive workshop run by a nonprofit called Art With Impact that uses the emotional power of short film to initiate dialogue with students on the topic of mental health. This peer-to-peer learning event is two hours long and consists of food, a facilitated discussion, three short films from Art With Impact's library and a resource panel with campus and community services.
Join us in creating a healthy environment at Palomar College through dialogue and growth!
Event Date: Thursday, May 10th
Event Time: 3-5pm
Location: Room D-10 (San Marcos Campus)
What are you looking for?
A - Z Index