New Students

Prospective Students
Simple Enrollment
Step 1: Apply and Activate
Step 2: Apply for Financial Aid
Step 3: Launch Your Success
Step 4: Review Your Placement and Develop an Ed Plan
Step 5: Register and Pay for Classes
General Resources

Current Students

Student Resources
Campus Life
Health and Safety
Student Support Programs

Movies for Mental Health
April 17, 2019 @ 6:00 am - 8:00 am PDT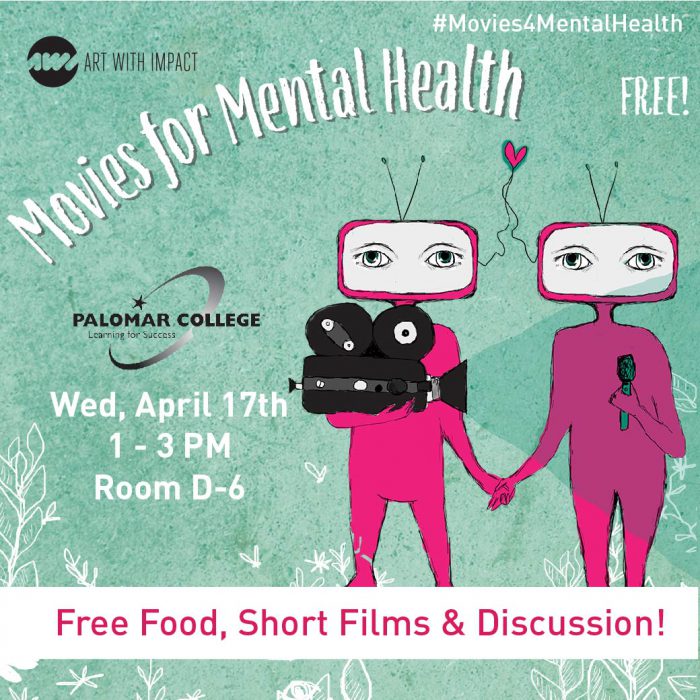 Join us in creating a healthy environment at Palomar College through dialogue and growth! #Movies4MentalHealth
Palomar College Student Health Center and Student Wellness Advocacy Group are collaborating with international nonprofit Art With Impact to host a FREE event called "Movies for Mental Health," an interactive workshop that uses the emotional power of short film to initiate dialogue with students on the topic of mental health.
This peer-to-peer learning event is two hours long and consists of food, a facilitated discussion, three short films from Art With Impact's library (http://www.artwithimpact. org/library), and a resource panel with campus and community services.
What are you looking for?
A - Z Index