New Students

Prospective Students
Simple Enrollment
Step 1: Apply and Activate
Step 2: Apply for Financial Aid
Step 3: Launch Your Success
Step 4: Review Your Placement and Develop an Ed Plan
Step 5: Register and Pay for Classes
General Resources

Current Students

Student Resources
Campus Life
Health and Safety
Student Support Programs

Free Dental Screenings today
April 5, 2017 @ 3:00 am - 7:00 am PDT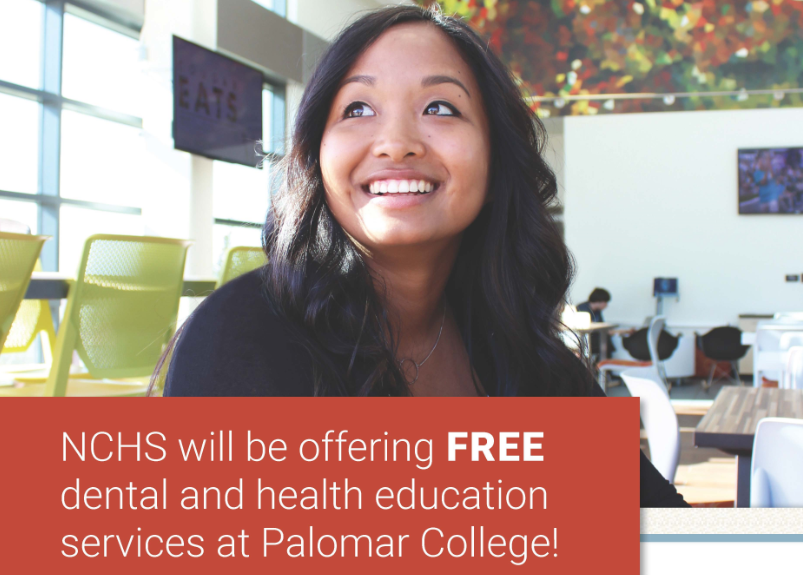 Palomar College Student Health Centers have invited the North County Health Services (NCHS) Dental Van on campus once a month to provide FREE dental and health education for Palomar College students.
North County Health Services (NCHS) is offering Free Dental Screenings in an effort to promote oral health awareness as well as access to healthcare services. Stop by on Wednesday, April 5th from 10am to 2pm!
San Marcos Campus (Parking Lot 6):
Wednesday, April 5 10am – 2pm
Wednesday, May 3 10am – 2pm
Services Include:
Dental Screenings
Fluoride Varnish
Oral Health Counseling
Information about Family Planning and Birth Control
Information about Covered California, Medi-Cal & More
For more information, call: (760) 736-6742.
What are you looking for?
A - Z Index