New Students

Prospective Students
Simple Enrollment
Step 1: Apply and Activate
Step 2: Apply for Financial Aid
Step 3: Launch Your Success
Step 4: Review Your Placement and Develop an Ed Plan
Step 5: Register and Pay for Classes
General Resources

Current Students

Student Resources
Campus Life
Health and Safety
Student Support Programs

Escondido Center Blood Drive
February 20, 2019 @ 1:00 am - 7:00 am PST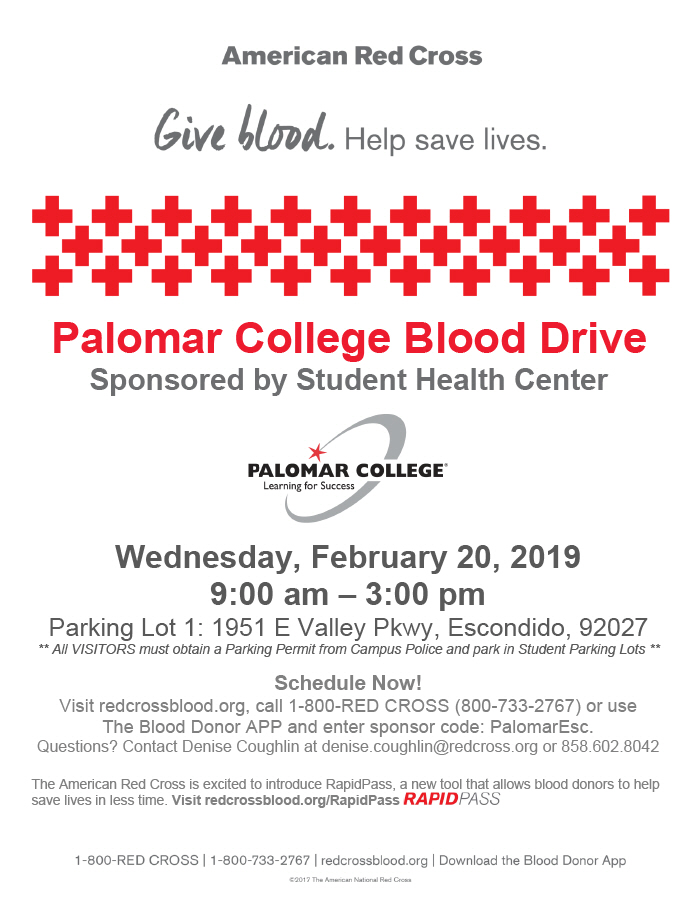 Palomar College Student Health Center is proud to sponsor our next blood drive with the American Red Cross at the Escondido Center on February 20th.
Drive Details:
Dates: Wednesday, Feb. 20th
Times: 9:00am to 3:00pm
Location: Parking Lot 1 (Near the Main Entrance)
Please schedule your blood donation today! Visit: www.redcrossblood.org (enter sponsor code: PalomarEsc).
There are many ways you can help, but most importantly we hope you come out to donate.
What are you looking for?
A - Z Index