New Students

Prospective Students
Simple Enrollment
Step 1: Apply and Activate
Step 2: Apply for Financial Aid
Step 3: Launch Your Success
Step 4: Review Your Placement and Develop an Ed Plan
Step 5: Register and Pay for Classes
General Resources

Current Students

Student Resources
Campus Life
Health and Safety
Student Support Programs

April Blood Drive
April 29, 2019 @ 2:00 am - 8:00 am PDT
|
Recurring Event
(See all)
One event on April 30, 2019 at 2:00 am
One event on May 1, 2019 at 2:00 am
One event on May 2, 2019 at 2:00 am
One event on May 3, 2019 at 2:00 am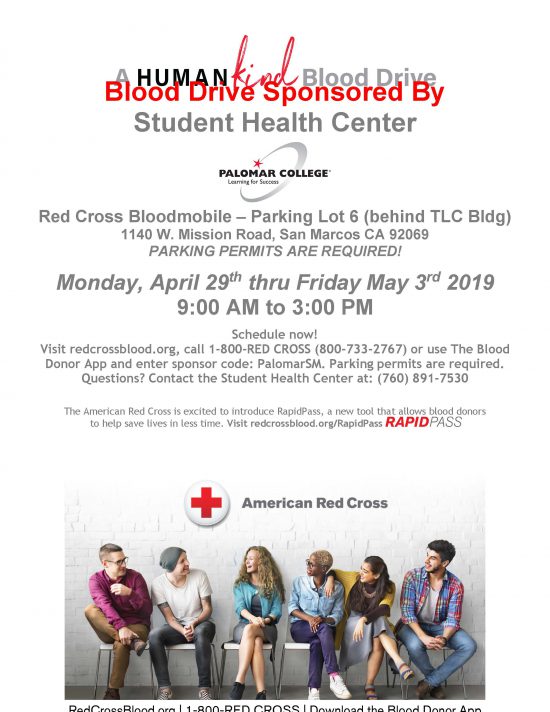 Please schedule your blood donation today!
Palomar College Student Health Center is proud to sponsor our next blood drive with the American Red Cross the week of April 29th through May 3rd.
There are many ways you can help, but most importantly we hope you come out to donate. We're looking forward to seeing many more of you. Let's add saving lives to our list of great accomplishments on:
Monday, April 29th through Friday, May 3rd
9:00 AM to 3:00 PM
Bloodmobile located in Parking Lot 6 (next to the TLC)
Interested in volunteering? Please e-mail Jordan in the Student Health Center for details at: jmougier@palomar.edu.
What are you looking for?
A - Z Index