New Students

Prospective Students
Simple Enrollment
Step 1: Apply and Activate
Step 2: Apply for Financial Aid
Step 3: Launch Your Success
Step 4: Review Your Placement and Develop an Ed Plan
Step 5: Register and Pay for Classes
General Resources

Current Students

Student Resources
Campus Life
Health and Safety
Student Support Programs

Alcohol & Substance Abuse Awareness Event
September 6, 2017 @ 3:00 am - 6:00 am PDT

September is National Campus Safety Awareness Month and Palomar College Police Department and Student Health Center invite you to our Alcohol & Substance Abuse Awareness Event on Wednesday, Sept. 6th from 10am to 1pm in the Student Union Quad.
Stop by to visit with local community clinics, get campus resources and check out the RADD car to win some prizes! College is RADD is a California College DUI Awareness Project by RADD, the Entertainment Industry's voice for Road Safety.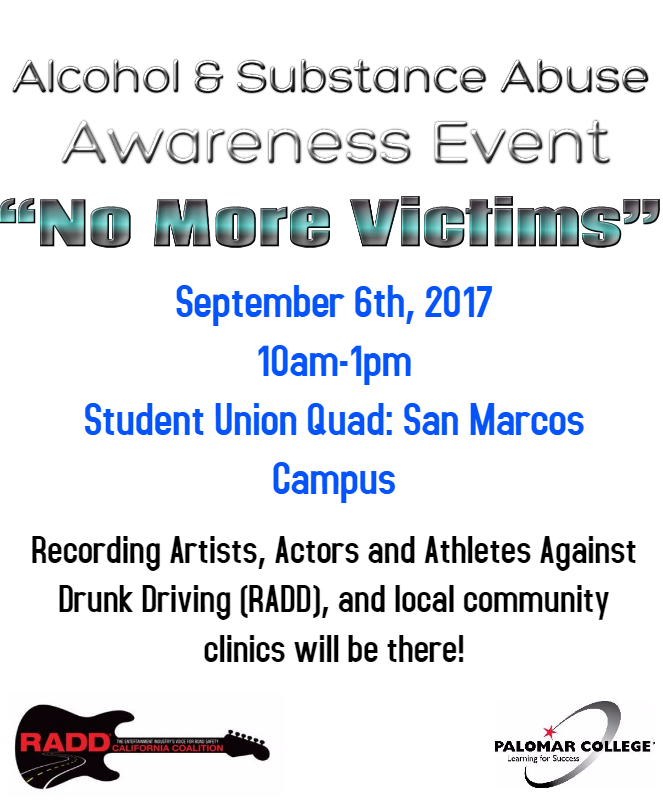 What are you looking for?
A - Z Index