Theatre Auditions for Both Fall Productions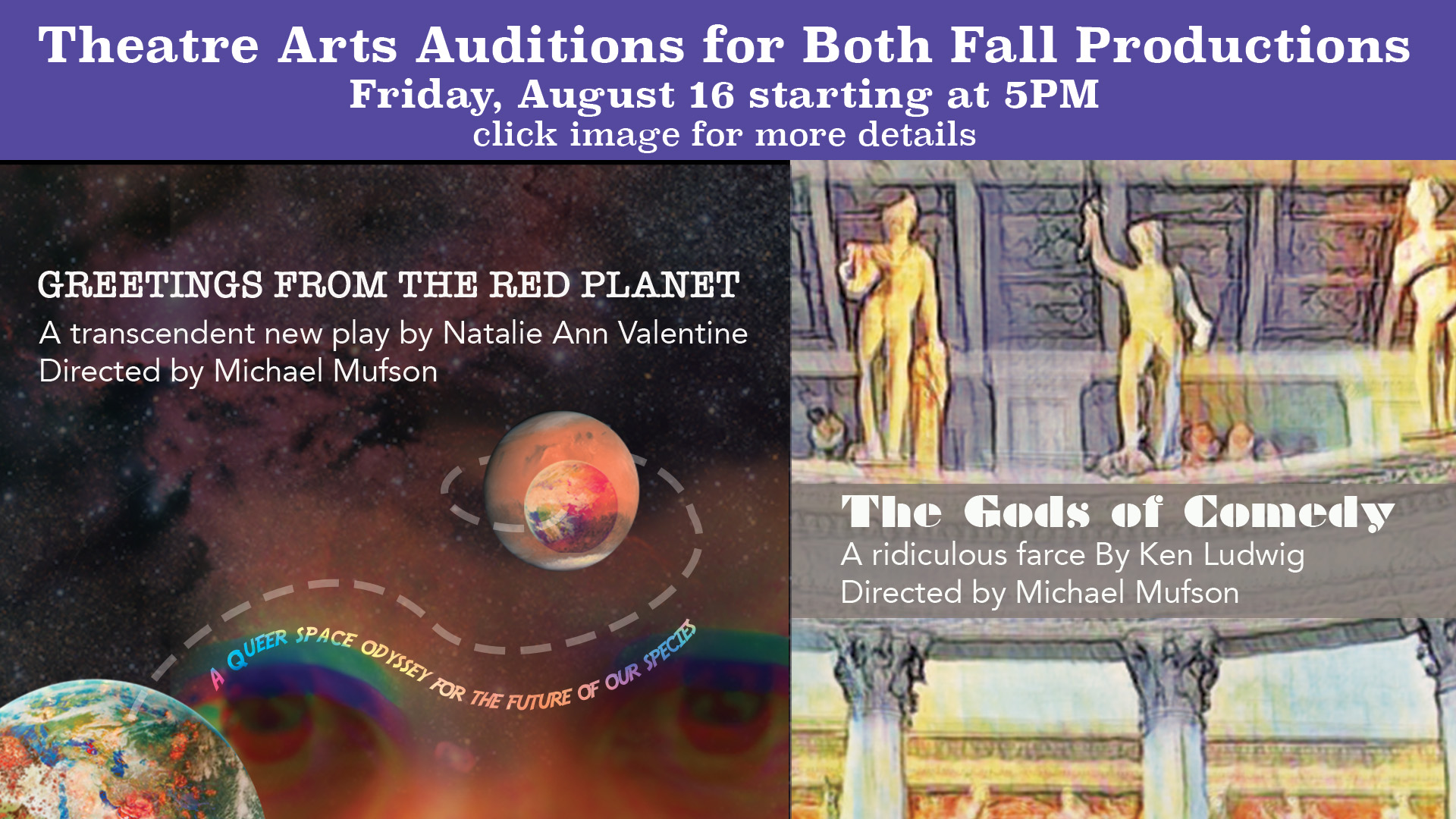 Open Call for BOTH Fall Productions
Friday August 26 starting at 5PM
Please prepare a 1-2 minute monologue • Contemporary Language • Any Style
GREETINGS FROM THE RED PLANET
By Natalie Ann Valentine • Directed by Michael Mufson
Callbacks August 27 •  2-7 PM
Performances: September 30, October 1, 2, 6, 7, 8, 9.  Thursday-Sat @ 7:30 PM • Sunday @ 2:30 PM
Rehearsals: Beginning August 29 • M-F 6:30-10:30 PM (Saturdays may be possible)
Tech Rehearsals: Saturday & Sunday September 24 & 25, 10 AM – 10PM
Dress Rehearsals: September 26-29 5PM – 10:30 PM
Description: A Queer Space Odyssey For The Future of our Species. In the not-so-distant future, Arin, a gender fluid barista, wins the lottery to be the first person on a one-way trip to live on Mars while our planet races towards climate collapse.  Alone on the spaceship Resilience, Arin experiences the weirdness of time, as their past, present and future collide to reveal the power of vulnerability, honesty and human connection on a frail and failing planet.
CHARACTERS:
ARIN RAMOS-ROMAN: (already cast) Non-binary. Uses both she/her and they/them pronouns. 30s, the first person chosen to go on a one way trip to Mars. Barista. Married to Tess. Bright but not especially ambitious.
TESS RAMOS-ROMAN: Woman, uses she/her pronouns. 30s. Wife of Arin. Attending grad school for marine biology.
EMILIA ROMAN: (already cast) 20s: Woman, uses she/her. Arin's sister. Charming, not much filter. Big "little sister" energy.
DOROTHY ROMAN: Woman, uses she/her. Old enough to be ARIN and EMILIA's mom. She is a good mom who gets in her own way.
DR. HAZEL RHYS: Woman or non-binary. 40s- 50s. Intelligent and serious: she's had to be.
CLERK: Any age, any gender.
THE GODS OF COMEDY
By Ken Ludwig • Directed by Michael Mufson
Callbacks August 28 • 2-7 PM
Performances: December 2, 3, 4, 8, 9,10,11• Thursday-Sat @ 7:30 PM • Sunday @ 2:30 PM
Rehearsals: Beginning October 10 • M-F 6:30-10:30 PM
Tech Rehearsals: Saturday & Sunday Novermber 26 & 27, 10 AM – 10PM
Dress Rehearsals: November 29 – December 1, 5PM – 10:30 PM.
Description: A young classics professor in crisis calls on the gods of Ancient Greece to save her love life and career—but it's not the gods of love who show up to help… a hilariously divine new play by comic master Ken Ludwig (Lend Me A Tenor) filled with madcap mayhem, a touch of romance, and lots of laughs.
CHARACTERS:
ARISTIDE: A greek street vendor of powerful trinkets.
DAPHNE RAIN: A young and esteemed American Classics professor from a liberal arts university. Daphne has a fiercely independent spirit and is on the verge of the adventure of her lifetime.
DEAN TRICKETT: The Dean of the Classics Department. A lusty 55-year-old "force of nature."
RALPH SARGENT: Thirty-five year-old Hellenistic studies rising-star. He is work-obsessed, bursting with energy, and on the hunt for a 'lost' Euripides play, a find which could make his career and change the course of theater history.
ALEKSI:  A Loveable university custodian with a deep appreciation for ancient culture and art.
DIONYSUS: Celebrated Greek god of wine, fertility, revelry, and misrule incarnated here as a God of Comedy on a mission from his father Zeus.
THALIA: Ancient Greek muse of comedy and idyllic poetry, now Dionysus's partner in comedic crime from Mt. Olympus.
ARES: The Greek God of War who is loud, intimidating, quick to be aggressive, and physically no match for opposing mortals.
BROOKLYN DE WOLFE: Former Grade-A student scholar turned world-class movie star; she is a big deal at her alma mater. Charming, alluring and deliciously ambitious.
Related Events