Paul Tseng – Concert Hour
May 18 @ 1:00 pm
PDT
Free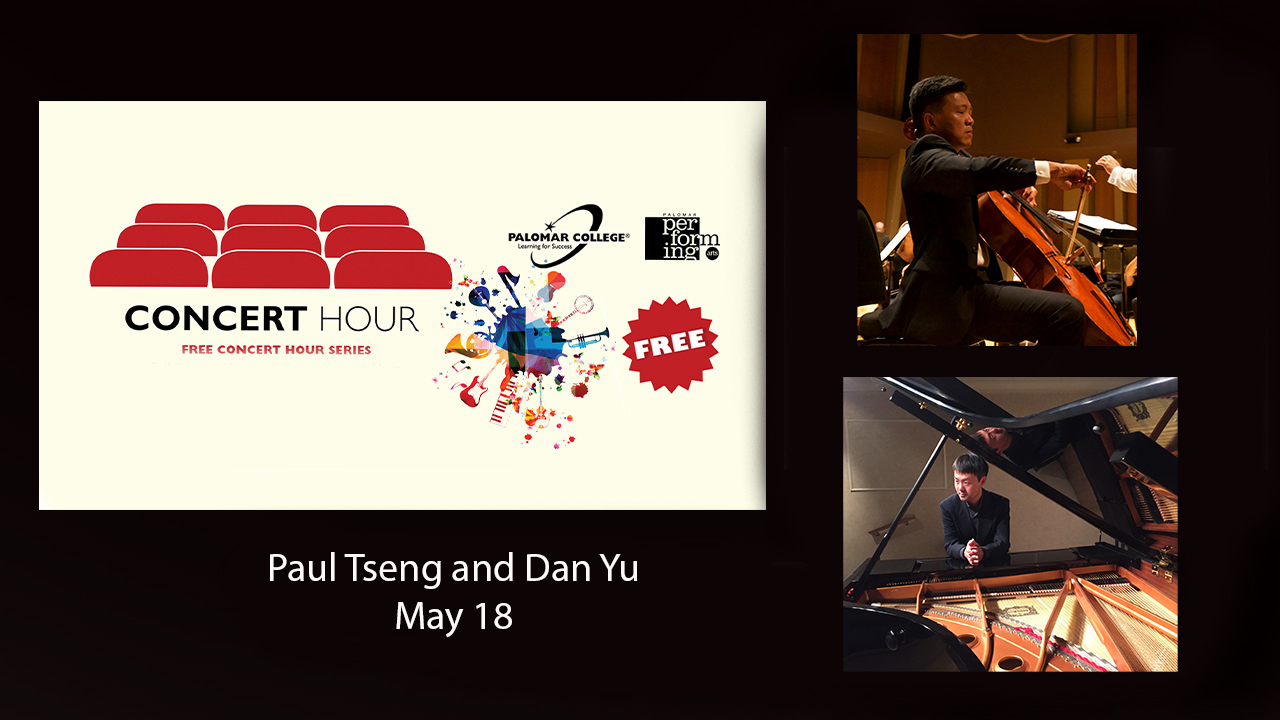 LIVE at the Howard Brubeck Theatre! Back on Stage and In Person!
Palomar Performing Arts Proudly Presents
CONCERT HOUR
Every Thursday at 1pm
Today's Performance Will be Held in Performance Lab D 10.
Join us every Thursday at the Howard Brubeck Theatre on the San Marcos Campus for a FREE LIVE Concert Hour Performance at the Howard Brubeck Theatre on the Palomar College Campus, San Marcos. Palomar Performing Arts is excited to open its doors to our students, staff and community members for our Free Concert Hour Series in person every Thursday at 1pm LIVE on the Howard Brubeck Theatre Stage.
Concert Hour is a FREE music enrichment series presented for our students and the community by the Palomar College Performing Arts Department.
Parking is Free in lots 1 & 15 during Concert Hour.
Paul Tseng (cello) has performed as a soloist, recitalist, orchestral, and chamber musician throughout the United States, Canada, Egypt, Jordan, Israel, and South Africa in concert halls such as Avery Fischer Hall, Carnegie Hall, Alice Tully Hall, the Cairo Royal Opera House in Egypt, The Royal Cultural Center in Amman, Jordan.
As a chamber musician, Paul has performed with luminaries such as Earl Carlyss and Ruth Inglefield, and as a member of the Delphian Trio, which won First Prize in the Baltimore Chamber Music Awards Competition.
The second cellist ever to be awarded the Doctor of Musical Arts degree at the Peabody Conservatory (Johns Hopkins University), Paul specialized in the cello music of Prokofiev. He also holds a Bachelor's and Master's Degree from the Juilliard School. He has held various faculty positions in New York, Maryland, West Virginia, New York, and Washington DC.
Paul is a founding member of the Logos Trio and the artistic director of the San Diego Music Society.
Dan Yu enjoys a multifaceted career as a piano educator, and solo and collaborative pianist. He worked with famed Russian pianist Vitaly Margulis for his University of California, Los Angeles (UCLA) piano performance bachelor degree, and obtained his master's degree in piano performance under Professor Antoinette Perry at the University of Southern California (USC).
Competitions he's won include Musical Merit of Greater San Diego, La Jolla Young Artist Competition, and many others. He had played numerous solo recitals in California and in China. He has collaborated with other musicians to give chamber music recitals to the community regularly. As a teacher, his students have won many competitions in San Diego. He is also the chairperson for MTAC's Piano Duo Festival for the past 4 years. Dan has hosted masterclasses in China and served on the jury of the Hong Kong International Music Foundation Competition (North America branch) in 2017.