MANIFEST DESTINITIS
December 1 @ 7:30 pm

-

9:30 pm

PST

$10 – $16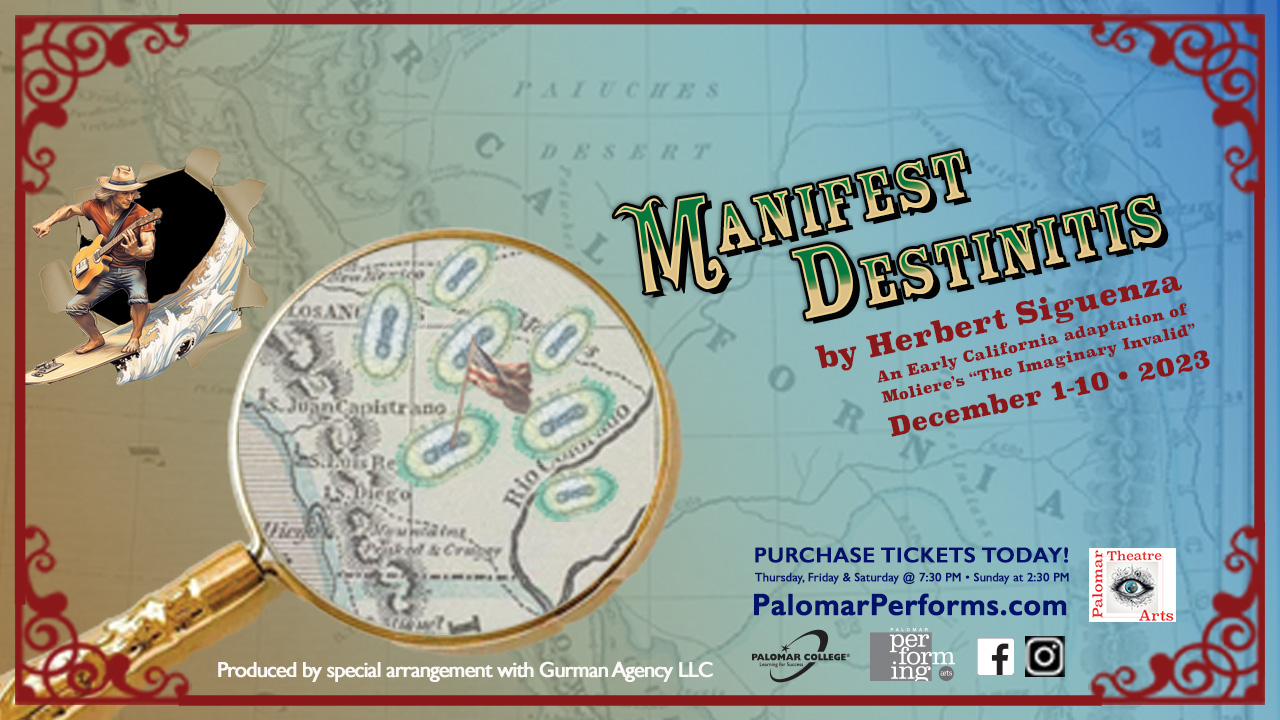 MANIFEST DESTINITIS
by Herbert Siguenza
Based on Moliere's classic comedy, The Imaginary Invalid.
December 1 – December 10
Siguenza reinvents this classic with satirical genius worthy of Moliere. Don Aragon is a Spanish landowner in Alta California on the eve of the U.S. annexation. He rules over his family with the will of a conquistador, but sadly, Don Aragon suffers great anxiety over the immanent U.S. invasion. When his unscrupulous doctor dubs the illness 'Manifest Destinitis', Don Aragon's paranoid antics upset his grip on a rebellious household. With an outrageous satirical mixture of medicine and history, Siguenza's prescription of laughter and lessons might do wonders for what ails us.
Click Here to Buy Tickets
Learn More About:
Herbert Siguenza is a founding member of the performance group CULTURE CLASH. Along with Richard Montoya and Ric Salinas ,Culture Clash is the most produced Latino theatre troupe in the United States. Founded in San Francisco in 1984, Culture Clash has performed on the stages of America's top regional theatres. As a solo writer and performer Mr. Siguenza has produced Cantinflas! and A Weekend with Pablo Picasso currently on national tour. His latest plays Steal Heaven and El Henry (Best new play San Diego Critics Circle Award 2014) have been produced at the San Diego Repertory and La Jolla Playhouse. Mr. Siguenza is also an accomplished visual artist and has exhibited both nationally and internationally.
ARTISTIC STATEMENT
I write plays especially satires that reflect the current times. As a founding member of Culture Clash, I have learned from doing and working with the very best directors and dramaturgs in the country. My plays are direct, funny, thought provoking and moving. My plays celebrate diversity and give voice to the left of center and to historical figures that have had a profound influence on my life. "Cantinflas!" about Mexico's greatest comic, "A Weekend with Pablo Picasso", "Steal Heaven" about 60's radical Abbie Hoffman. I have also adpated two classics and have dusted them off and have given them new life and language for a contemporary audience. "El Henry", a futuristic apocalyptic Chicano vision and "Manifest Destinitis", an early California adaptation of Moliere's "Imaginary Invalid". I have two Latinx Christmas plays one set in Cuba before and after the revolution and the other is set in Corpus Christi,Texas in 1957.
Commedia dell'arte
Click Here to Learn More about Commedia Characters 
Read A Press Release
November 15, 2023
FOR IMMEDIATE RELEASE
Palomar Performing Arts continues its 2023/24 Performing Arts Season with the Production of Manifest Destinitis
by Herbert Siguenza.
 Palomar Performing Arts will present Manifest Destinitis (pronounced like "tendonitis") by Herbert Siguenza, directed by Michael Mufson, in the Studio Theatre located on the Palomar College San Marcos campus December 1 – December 10, 2023; Thursday, Friday, Saturday, at 7:30 p.m., Sunday at 2:30 p.m.
Prepare to be transported to a time of historical upheaval and uproarious laughter as Herbert Siguenza, a founding member of the iconic Chicano Theatre troupe Culture Clash, reinvents Moliere's classic comedy, The Imaginary Invalid, with a 21st century American sensibility.
In Manifest Destinitis Siguenza aims his satirical genius at the myths of Manifest Destiny and American Exceptionalism. Set in Alta California on the eve of the U.S. annexation. The play revolves around Don Aragon, a Spanish landowner who rules over his family with the iron will of a conquistador. However, his dominion is threatened by a profound anxiety stemming from the imminent U.S. invasion. When his unscrupulous doctor diagnoses him with Manifest Destinitis, the stage is set for a cascade of absurd and paranoid antics that upend the once-peaceful household.
Director Michael Mufson said, "I have found this play to be a comic inoculation against the ills of colonialism.  It's the perfect blend of splendid physical comedy, verbal wit, and insightful perspective on our foundational myths."
He went on to say, "As the world seems to be unravelling around us, Manifest Destinitis enables us to find humor and humanity in the historical events of the past and the present."
Parking is free in lots 1 & 15 for this this performance. Howard Brubeck Theatre is located at Palomar College, 1140 W. Mission Road in San Marcos, CA 92069. Tickets and updated information can be found at www.palomarperforms.com or by calling or texting 760-214-9109. Group rates are available. Ticket prices range from $10 – $16.
Media Contact:
Carl Thompson – Marketing and Program Coordinator
cthompson2@palomar.edu   760-744-1150, ext. 3997
| | | |
| --- | --- | --- |
| Publicity Picture Samples: | | |