MandoBasso – Celtic Show – Concert Hour
March 23 @ 1:00 pm

-

2:00 pm

PDT

Free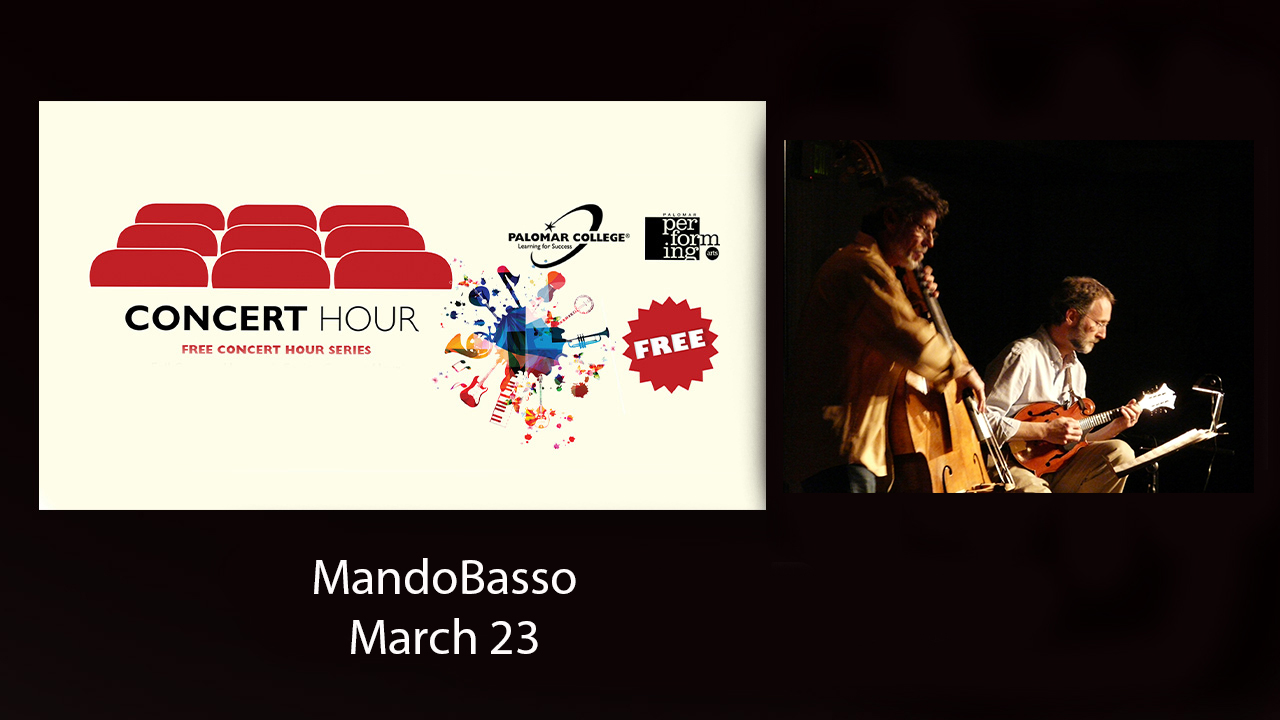 LIVE at the Howard Brubeck Theatre! Back on Stage and In Person!
Palomar Performing Arts Proudly Presents
CONCERT HOUR
Every Thursday at 1pm
Join us every Thursday at the Howard Brubeck Theatre on the San Marcos Campus for a FREE LIVE Concert Hour Performance at the Howard Brubeck Theatre on the Palomar College Campus, San Marcos. Palomar Performing Arts is excited to open its doors to our students, staff and community members for our Free Concert Hour Series in person every Thursday at 1pm LIVE on the Howard Brubeck Theatre Stage.
Concert Hour is a FREE music enrichment series presented for our students and the community by the Palomar College Performing Arts Department.
Parking is Free in lots 1 & 15 during Concert Hour.
MandoBasso is a duo featuring Gunnar Biggs on bass and Bill Bradbury on mandolin. Biggs comes
from a strong background in jazz and classical performance, Bradbury from a composition and
computer music background. They first met as faculty colleagues working on projects at both
Palomar College and Cal State San Marcos and their mutual love of Irish and traditional American
music inspired them to create this unique pairing of mandolin and bass. MandoBasso performances
include mostly original compositions with some traditional tunes, classical music, jazz and ragtime.
MandoBasso has two albums available on iTunes, Spotify, Amazon, and most streaming services,
you can also listen to the albums by going to links to the albums on HearNow (below the pictures
above). Their first album (MandoBasso) was recorded in studio in 2010. MandoBasso: Porch
Music was recorded in summer 2020 on the porch of Bigg's home (due to pandemic social distancing
protocols…safety first!). MandoBasso comments about this album: "There is an immediacy to
recording outside on the porch that you don't have in the studio; while listening, keep your ears open
for hummingbirds chittering, neighbor kids playing, and even sirens wailing just as we got into the
darkest section of the Mahler improvisation, reflecting the intensity of all our lives in 2020." Please
listen to both albums for free on the HearNow pages and, if you'd like to support the duo, you can
buy the music on the streaming services linked on those pages. The album links and liner notes are at
www.mandobasso.com/music .
Visit www.mandobasso.com for more about MandoBasso including
bios, videos, reviews, and contact information.www.tinachong.ca